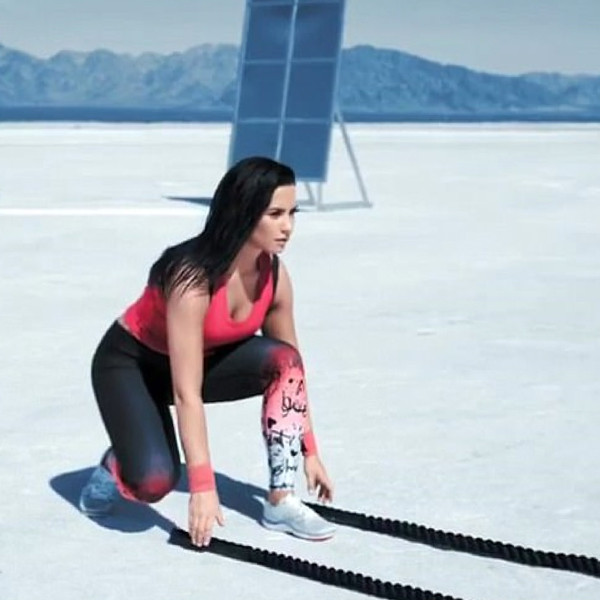 How does Demi Lovato work out? With a well-prepped gym bag and whole lot of confidence.
The 24-year-old singer opened up to SELF about what that looks like.
She told the magazine in a recent video, "I've run into guys that I've liked at the gym, and it doesn't matter if I'm sweaty or not," she said. "They'll like me for who I am, and if not then they can suck it."
And considering she has a new single out called "Sorry Not Sorry," this awesome attitude makes sense. Demi wants people to relate to her tunes emotionally. They may not necessarily be workout songs, but she writes them to get out of her own head.
Another way she's been taking care of herself both physically and mentally? Through exercise. 
Demi's fitness methods of choice? Mixed Martial Arts and Jiu Jitsu. "I think it's really cool to learn something that helps you with self defense," claimed the star. "I think it's very empowering and it's also very strategic, so it's meditative to me to constantly be thinking of ways to attack or defend these certain positions."
Beyond self empowerment, the star sees exercise as a measurement of success—setting personal goals and looking beyond its physicals benefits. It's also great to combat stress. "I would give this advice to other women and girls and young men," started the songstress. "If you struggle with depression or anxiety or any other type of stressors in your life, a really great way to get rid of those is through activity, so physical exercise and fitness."
As for what to pack in your gym bag? Demi, who is launched a new line with Kate Hudson's Fabletics on August 16 (today), also has a lot of tips. 
The self-proclaimed germaphobe won't hit the gym without antibacterial wipes. The singer stressed the importance of skincare as part of any fitness routine, suggesting products for makeup removal pre-workout and a cleanser for after. 
To stay pumped up, Demi listens to "Bodak Yellow" by Cardi B and "DNA" by Kendrick Lamar on a JBL bluetooth speaker, and has got to keep her phone charged while her body stays moving. She advised bringing a Mophie wireless charger for that.
"My battery is already at 15 percent and it's only 3:45 p.m.," she said. 
Scroll through for a full list of what's inside Demi's gym bag so you, too, can exercise like a celeb. 
Let us know which of Demi's workout essentials you plan on testing out during your next fitness session.