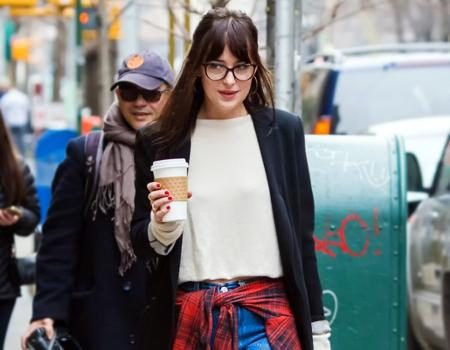 It's a battle of the coasts.
Whether you're a celeb living in New York or Los Angeles (or just a regular civilian), the difference in your wardrobe choices are incredibly distinct. The Big Apple's style is notorious for being polished and professional with a big side of high-fashion; whereas, the Sunny State's go-to look is extremely laid-back and casual. Life is fast-paced in NYC while finding a relaxing lull in your schedule as an LA-native is a pretty common thing, so because of that you'll find the different coasts are on completely opposite ends of the fashion spectrum—especially when it comes to coffee runs.
To help illustrate those differences, we've enlisted the help of your favorite celebs who choose coffee over tea, every time.
Stella Maxwell's all bundled up in that shearling-lined jacket and cool cropped pant while Kendall Jenner's perfectly contrasting her fellow VS Angel in a cropped leather moto and mom jeans. 
Do you prefer Stella's high-street moment or Kendall's plain white tee-driven digs?
Next up, it's Vanessa Hudgens rocking a seriously '70s-inspired outfit—flares, paisley, round sunnies, you name it—and Dakota Johnson in classic Doc Martens, a sweater and blazer.
So will it be the High School Musical star's groovy get-up or the Fifty Shades Darker actress' hard-knock-life-esque ensemble?
Lastly, these outfits are pretty much the epitome of coffee running on each coast. You have Olivia Culpo on the left in her killer athleisure and Karlie Kloss on the right in a perfectly tailored trouser outfit.
So which is more your speed: the gym-ready attire or business-ready style?