When it comes to Tracee Ellis Ross, what you see is what you get. As observers of her bold yet consistently on target style, we've loved everything we've received.
From her royal blue Comme des Garçons ensemble at her Met Gala debut to her strategic fashion choices (such aswearing one earring during Paris Fashion Week) to the utilitarian jumpsuits and distinctive accessories featured in her street style, the Blackish star realizes a phrase that is both overused and under-practiced: "Be Yourself."
With authentic expression as her claim to style fame, naturally she is taking on the role of a fashion designer. Today, the star launches a capsule collection with JCPenney for the holidays and uses empowerment as motivation to make it accessible to every woman. The collection ranges from $ 12 to $ 74 and includes sizes small to 3X, home décor and accessories.
"I was inspired to create a holiday collection accessible to everyone that empowers women to embrace their joyful spirit," she told E! News.
In true holiday form, she's sharing her joyful spirit. The 45-piece collection features graphic home décor, glittering clutches, a classic fall tote, a hot pink glitter dress (as seen above), a pantsuit, a bodycon midi dress, pajamas—there's a lot to choose from. However, there is one piece that the actress loves most.
"The main thing that I wanted to put in this collection was a tux," she said. "I've always wanted to make a jacket. I wanted to nip at the waist and make sure the shoulders comes out just a little bit—not too much so that it's exaggerated, but just enough so your waist—no matter [the body shape of] the woman that is—just pops."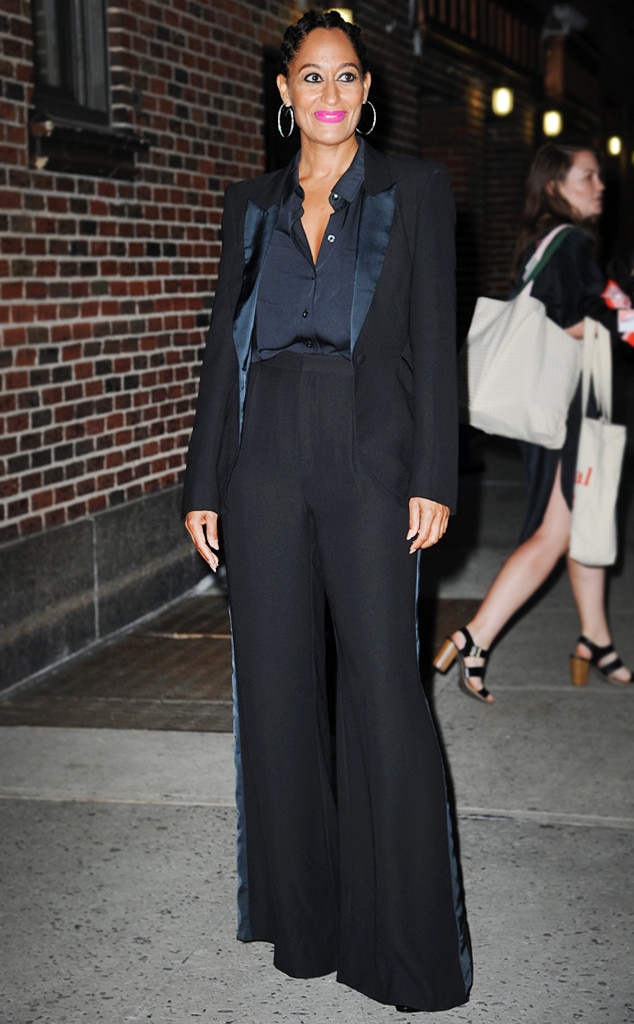 Kristin Callahan/ACE Pictures/REX/Shutterstock
This comes of no surprise, as we've seen the star in tux jackets a number of times, worn completely different ways. For her, it's a wardrobe staple, and if observing her style feels like window shopping, her jacket is affordable and on sale.
Although you may not be able to personally ask Tracee what to add to your winter wardrobe prior to building your shopping cart, we have her answer: "Every woman should have a tux jacket in her wardrobe. You can wear it over a dress, you can wear it over a gown, over jeans with a t-shirt, over sweatpants. I think you can kind of clean any look up with the tuxedo jacket."
Beyond sharing styling tips, such as what to wear, the star revealed more into her relationship with fashion. When asked how fashion helped her to feel good in her own skin, the star replied, "[Fashion] started as my armor." Yet somewhere along the process, style transitioned from her protection to her expression. "It's how I wear my inside on my outside," she shared. "It's one of the ways I present myself to the world that makes me feel empowered and joyful."
Hopefully, this new line will empower you, too.