She got it from her mama!
If there was one icon 2017 American Music Awards host Tracee Ellis Ross was channeling this evening, it was the one and only Diana Ross. Of course, fans should've expected the Black-ish star to pay homage to the world-famous singer in one way or another, given that Diana received this year's Lifetime Achievement Award.
Tracee told E! News she felt the "planets [had] aligned" upon finding out she'd be hosting the same event granting top honors to her mom, adding, "It's extra special. It just feels like sort of a perfect mish-mosh of the right things, you know?"
So from her glitzy opening look to every sophisticated ensemble in between, Tracee totally aced emceeing a massive Hollywood event in style.
And how did Diana influence Tracee's personal fashion sense and seemingly endless outfit changes from tonight? The actress explained, "I grew up thinking a sparkly dress is the way to go. Big hair—the way to go. Good smile—the way to go. I think I learned by example and also by—like most young girls—going into my mom's closet and stealing sh-t."
Take a look at Ross' 2017 AMAs fashion playbook below!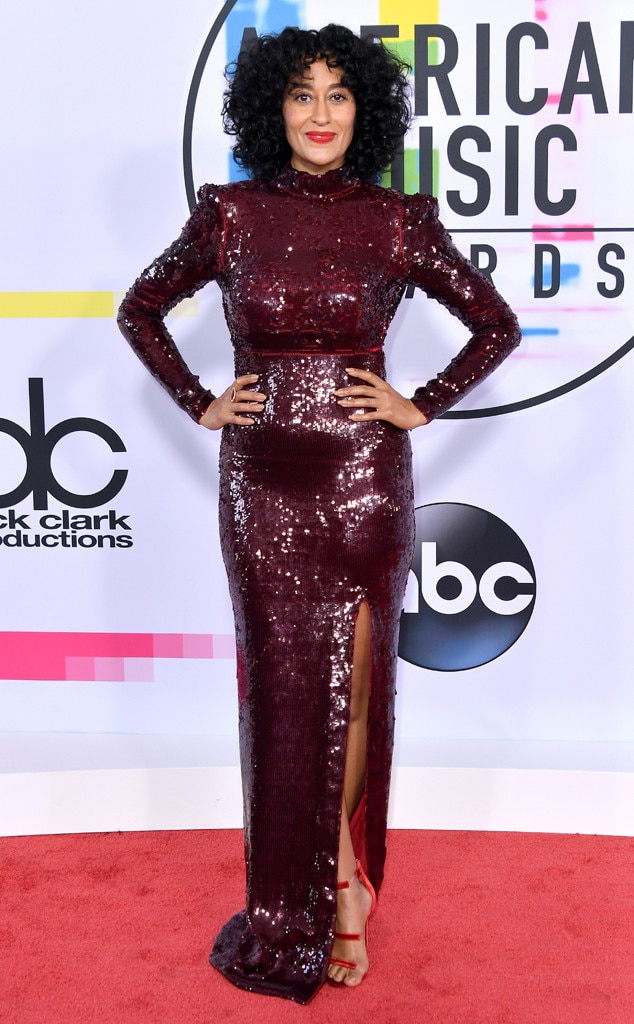 Neilson Barnard/Getty Images
Red Carpet Ready
The Black-ish star's evening commences in custom Stella McCartney.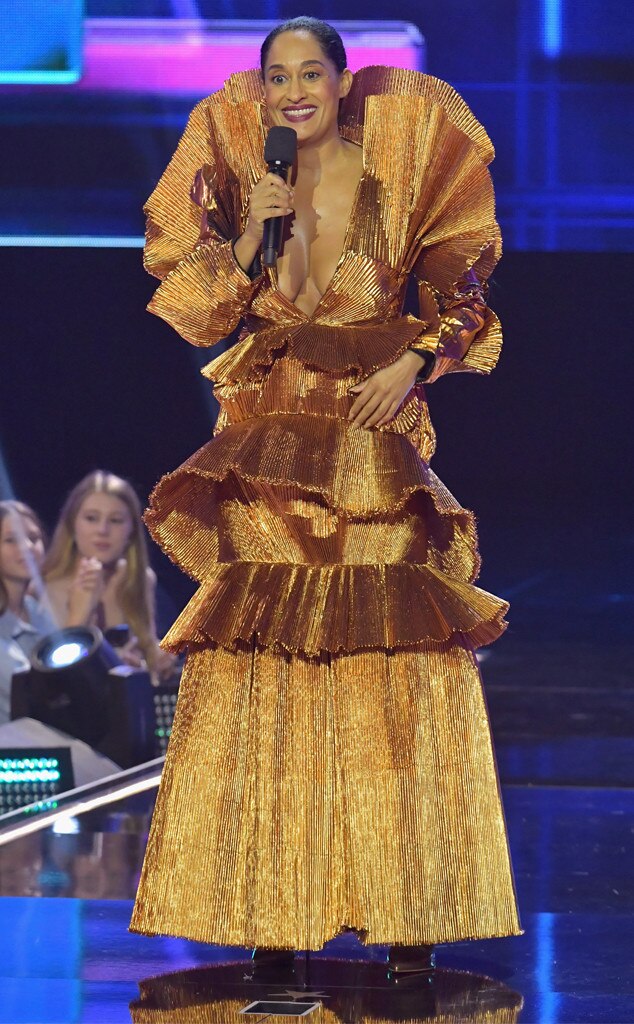 Lester Cohen/WireImage
Opening Number
Tracee and this gold couture look by Ronald van der Kemp are a match made in fashion heaven.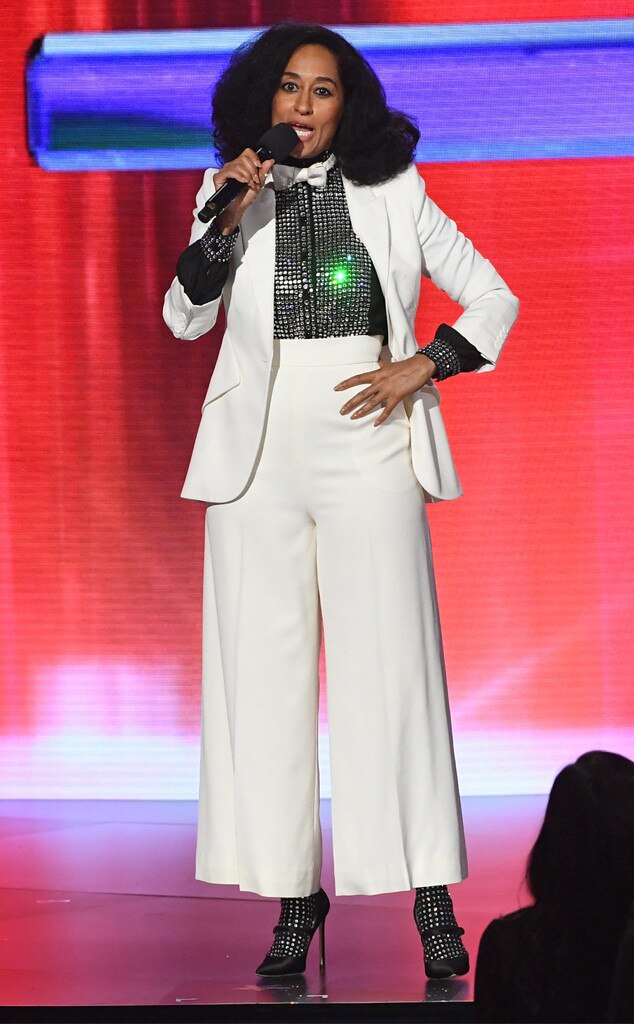 Kevin Winter/Getty Images
If She Could Turn Back Time
Throwback! The hostess with the mostest wore the same blouse her famous mom rocked during a performance with Michael Jackson back in the day.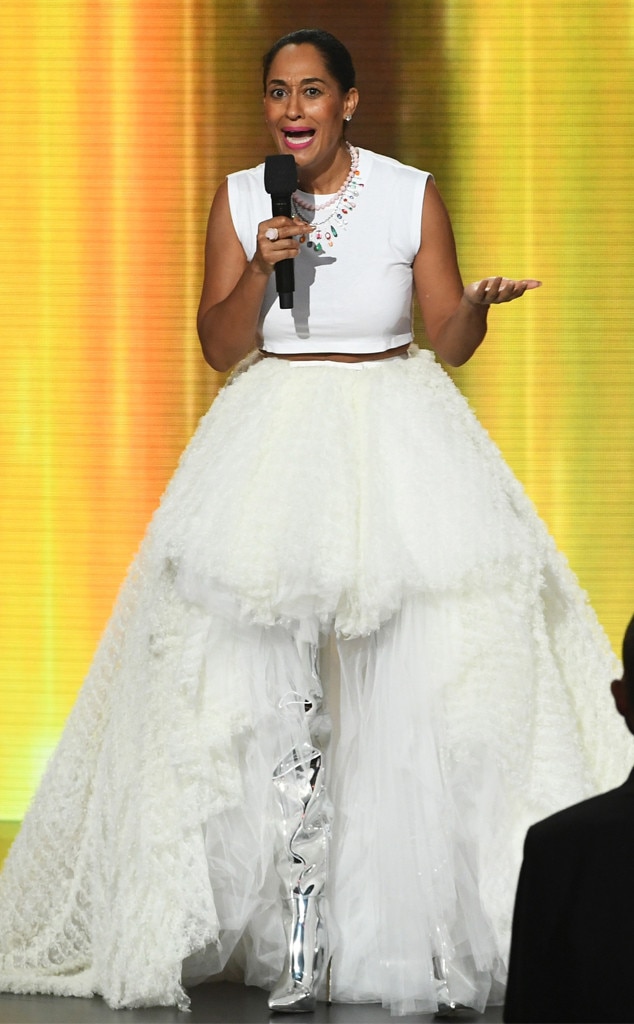 Kevin Winter/Getty Images
Belle of the Ball
Silver thigh-high boots provide a funky edge to this ultra-feminine two-piece outfit.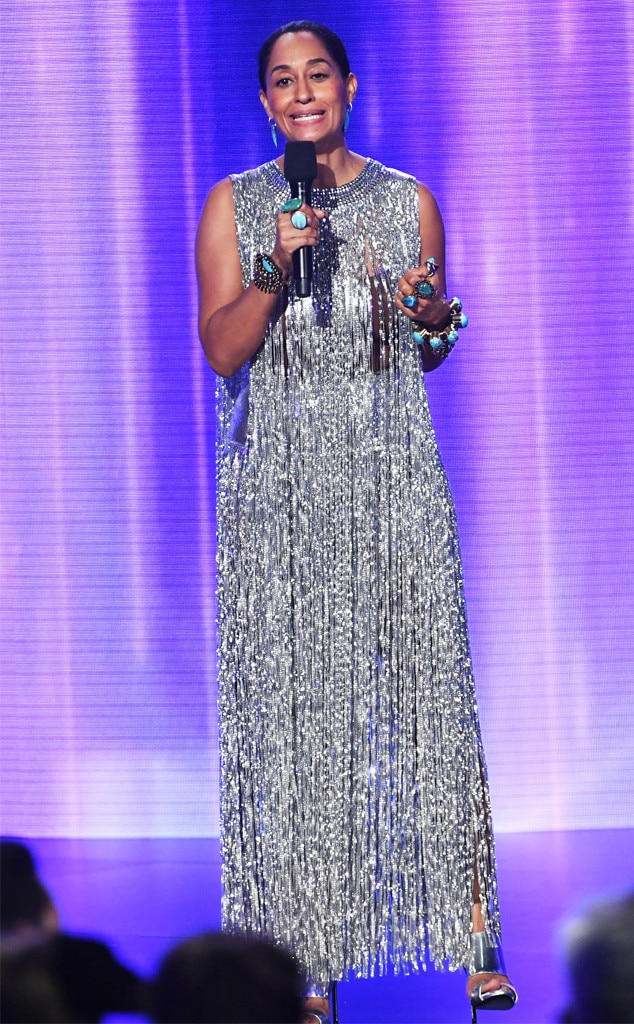 Kevin Winter/Getty Images
All That Glitters
The 70s called; and they're loving this disco-inspired dress.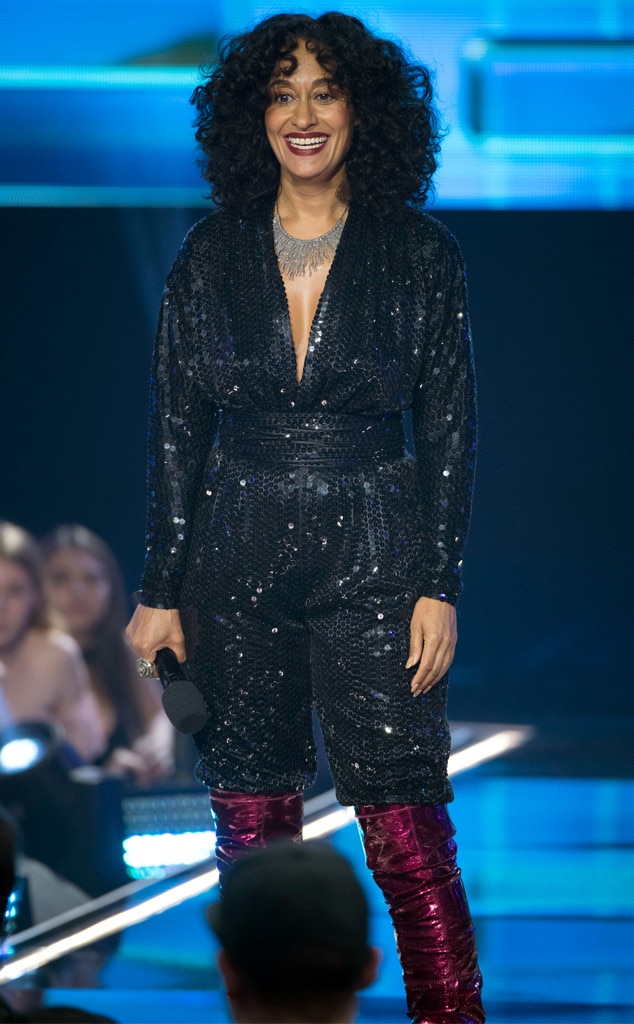 Image Group LA via Getty Images
Sequins for Days
Give Ross a sequined jumpsuit and she can conquer the world.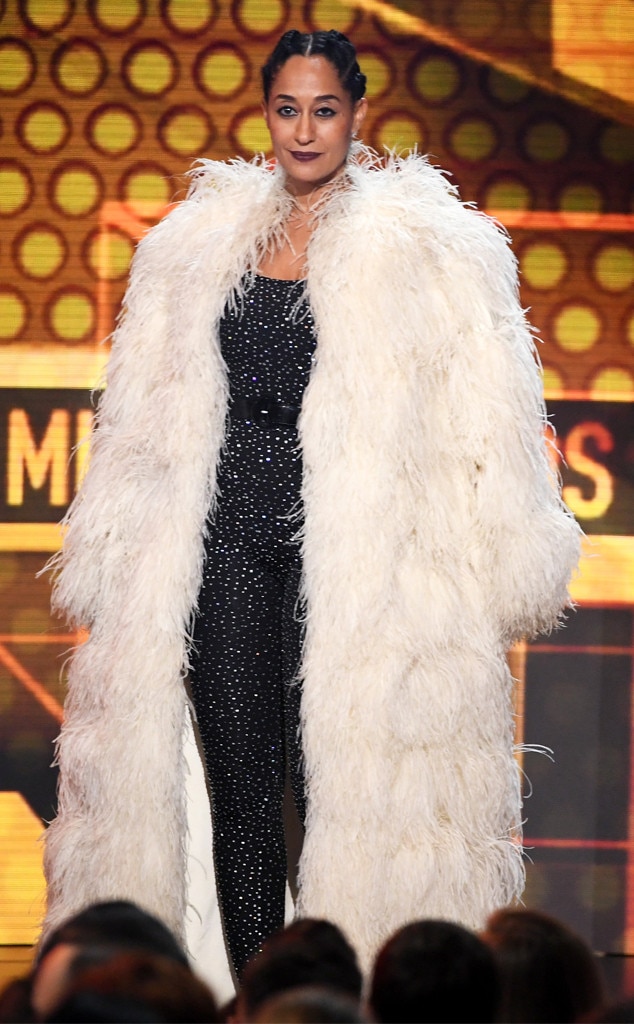 Kevin Winter/Getty Images
Fierce AF
Cruella de Vil's got nothing on Ms. Ross!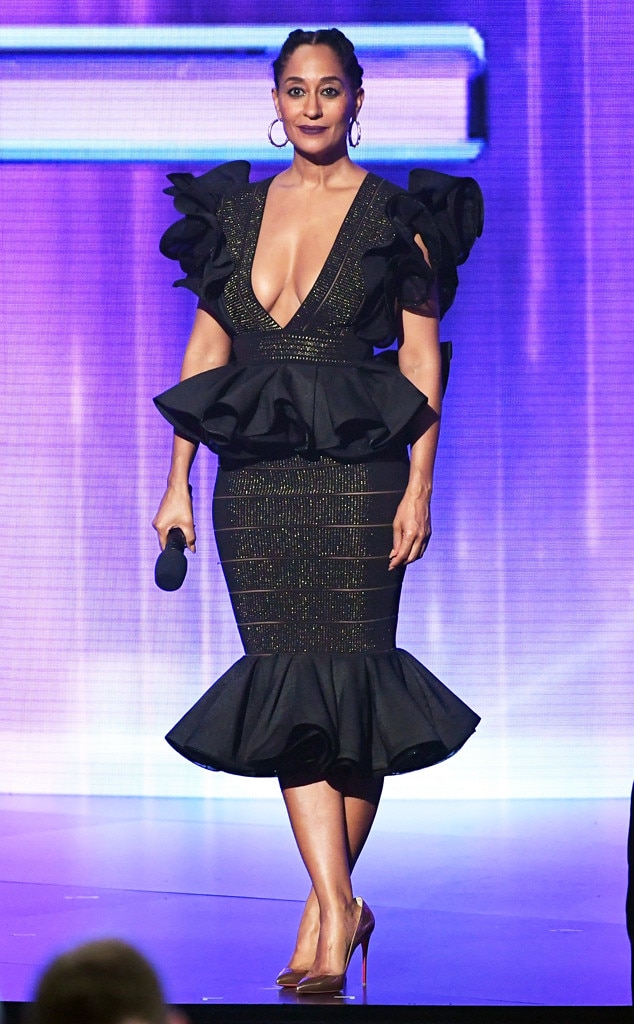 Kevin Winter/Getty Images
Pretty Peplum
Tracee showcased her enviable curves in this ruffled bodycon with peplum sleeves and waistline.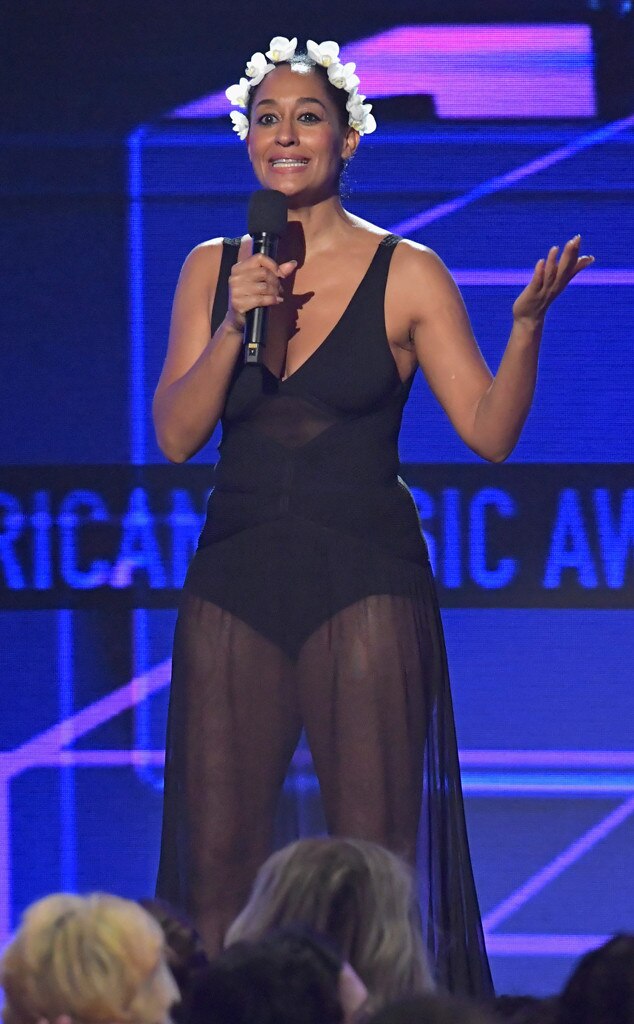 Lester Cohen/WireImage
Flower Power
Did she just singlehandedly bring back the flower crown? Sure did!
Which was your favorite T.E.R. ensemble? Sound off in the comments!
For complete coverage of the 2017 American Music Awards, watch E! News Monday night at 7 & 11 p.m.