What really goes into a Golden Globes dress?
Intention, a whole lot of work and even, sometimes, first-time luck! While the typical process goes something like this: stylist pulls borrowed options then celeb goes through a few rounds of fittings until the perfect dress is found or stylist works with specific designer to create a custom look for celeb—the truth is every journey is different. There are obstacles—like when Eva Mendes' white Dior gown was sent to the wrong location. There are nerves—like when Emma Watson's stylist put a bright red dress over cigarette pants at one of Hollywood's most formal events. And there is so much artistry behind a single dress that its story deserves to be told—like how Ruth Negga's fashion-forward suit of armor was sewn by hand and almost took 120 hours to create.
Of course, there are more hilarious stories, like how Naomie Harris had to lay down in a car for over an hour to not wrinkle her dress or how Meryl Streep wore her wedding dress to accept her first Golden Globe, only to have it soaked with breast milk in the end. But to read more about the most interesting stories behind some of the most famous Golden Globes looks of all time, keep scrolling.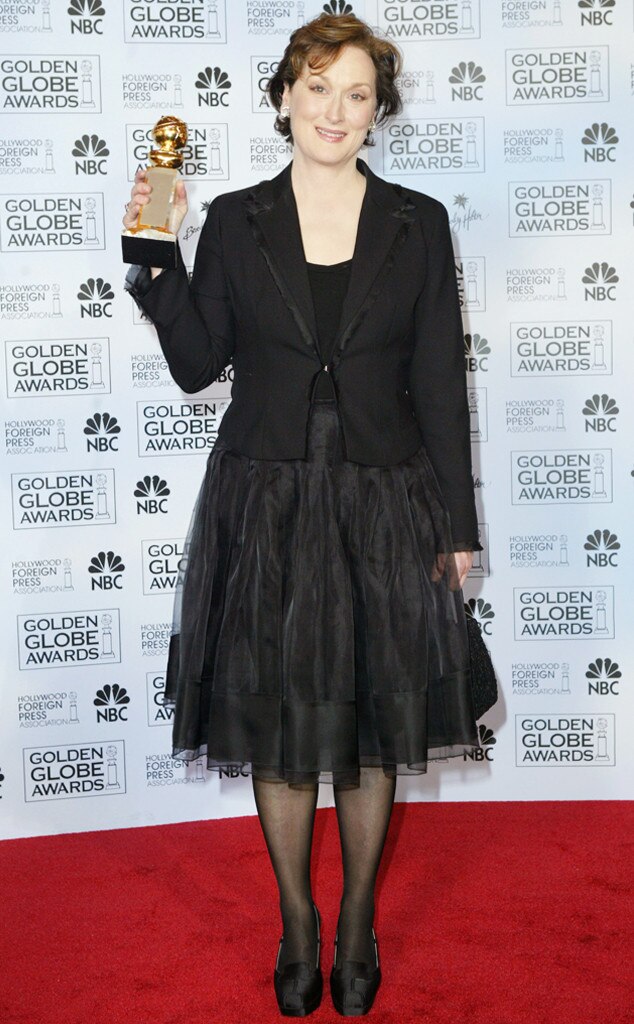 J. Vespa/WireImage
Meryl Streep
It's no secret that Meryl is an award show veteran, and as such, she's now quite equipped at handling wardrobe malfunctions. In a Vanity Fair article, she revealed that she didn't realize her 2004 Golden Globes dress was completely see-through until she went up to the stage for her acceptance speech. But perhaps the best story of all was in 1979, when the actress won the Globe for Kramer vs. Kramer. "In those days, they didn't lend you dresses, so you had to buy something," Streep recalled. "I didn't have any money, so I wore my wedding dress, as you would. It was a perfectly nice white silk dress." It also turned out that she was breastfeeding that year, and by the time the long award luncheon was over, her dress was soaked through. "It was so embarrassing," she said.