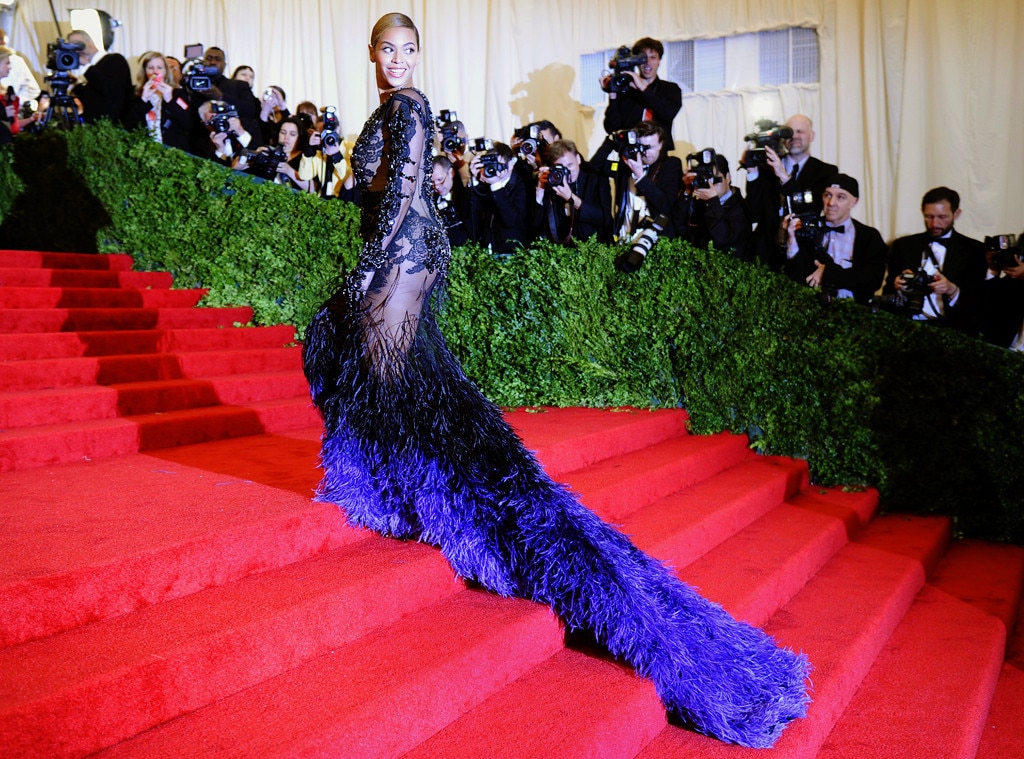 TIMOTHY A. CLARY/AFP/GettyImages
What goes into styling Beyoncé for the Met Gala? Apparently, it can all take less than 24 hours.
The pregnant singer will probably be a no-show this year, but as the first Monday in May rapidly approaches, we'd be remiss not to acknowledge the most epic moments from the biggest night in fashion's past. Bey, of course, owns many of them—remember her pale-pink latex ensemble from 2016? Then there was that high ponytail and naked dress combo for the China: Through the Looking Glass theme. Year after year, she impresses (in mostly Givenchy). And year after year, you'll see stylist Ty Hunter trailing behind her, fluffing and fixing her train on the famously steep, red steps of the Metropolitan Museum of Art.
Although Ty doesn't have any plans to attend the star-studded extravaganza this year, one can never know. Beyoncé could call him day of and tell him that she wants to attend. She did that in 2012, after all.
"It was Met Gala, and Beyoncé decided that day that she wanted to go," Ty revealed to E! News.
While most stylists would balk at the thought of prepping for such a high-profile event in less than 24 hours, Queen Bey relayed a much more nonchalant attitude about attending. (Who knew you could RSVP on such short notice!)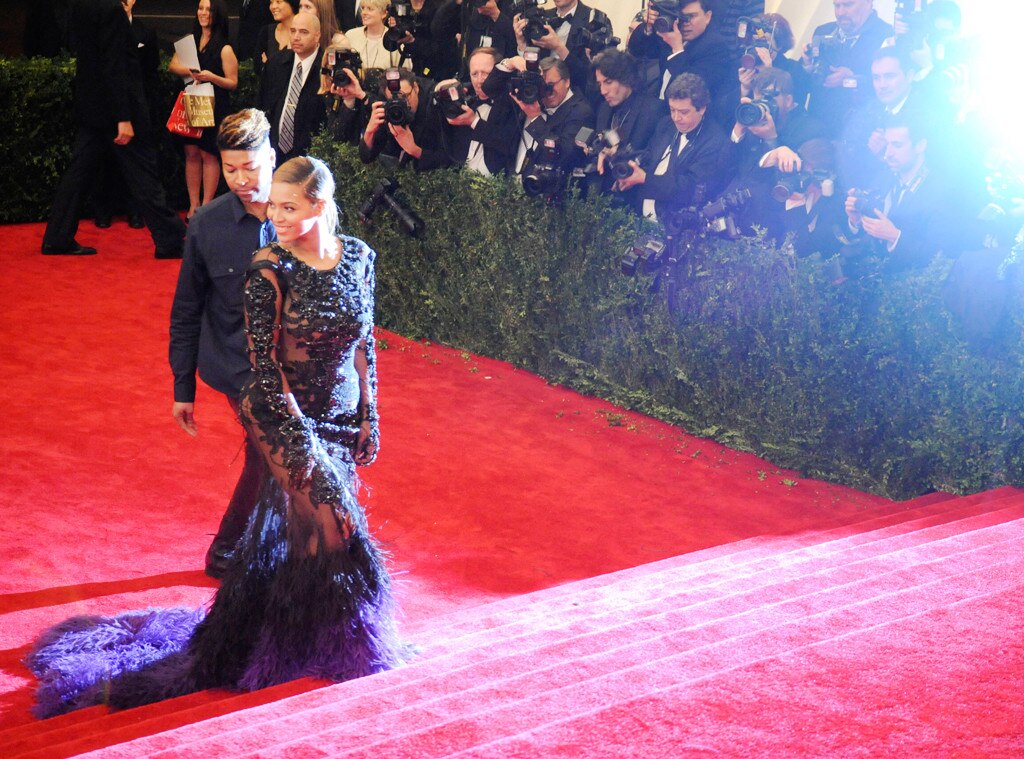 Rabbani and Solimene Photography/Getty Images
"It was like, 'If we can, we go. If we can't, we won't," he recalled. The team was in the midst of rehearsing for an upcoming tour, and there was little time to plan. Not to mention, it was one of the first times Beyoncé would be seen in public after having daughter Blue Ivy. "Thank god Givenchy made a dress for her for a prior event that we didn't use."
The veteran stylist made a simple call into the Parisian fashion house, and luckily, they were able to expedite the gown back onto Beyoncé's body.
The dress that saved the day? A black, long-sleeved, embellished, see-through dress that masterfully transitioned into a purple, feathered train.
"It was kind of the beginning of the illusion dress," Ty noted. (Yes, Bey was at the forefront of the naked dress movement.) "It fit perfect. The dress didn't really need anything else."
The veteran stylist did put in a quick call to jeweler Lorraine Schwartz, who "always seems to have what we need," a.k.a. a pair of diamond stud earrings. The rest, as they say, was fashion history.
No one ever knew about the last-minute ensemble (until now). Honestly, the "Formation" singer could've worn a sparkly paper bag and it still would've worked.  
"A woman needs to be comfortable and confident," he said. "Beyoncé has worn dresses that are really heavy and makes it look like a feather."
Just in case celebs aren't Bey-level confident and don't have a veteran stylist beside them, Ty's last tip will save the day: Wear comfortable shoes. "Stuart Weitzmans—they emphasize a woman's arch and look sexy enough," he recommended. "Those red steps are serious."
On Monday, May 1, our Met Gala conversation starts on the E! News Facebook page at 7 p.m. ET / 4 p.m. PT. Immediately following E! News on Monday, May 1, we'll be live from New York with red carpet coverage of the Met Gala at 7:30 p.m. ET / 4:30 p.m. PT. For complete coverage of fashion's biggest night, tune in to E! News at 7 p.m. and Fashion Police at 8 p.m. on Tuesday, May 2.