Warning, spoilers for Stranger Things season two ahead. If you choose to continue reading and then complain about spoilers, you will be sent to the Upside Down!
Grab your teasing comb and pliers to zip up those jeans, because we're officially back in 1984. Stranger Things' second season, which is now available to stream, takes place in 1984, a year costume designer Kim Wilcox knows quite well.
"I was in high school in 1984. So it's a time…that you remember pretty well," Wilcox, who joined the Netflix hit ahead of its second season. "It was a year that there was a slew of amazing movies, so I spent my summer in movie houses."
However, when looking into how the citizens of Hawkins, Indiana, would dress in 1984, Wilcox noted you couldn't fully trust the movies (Think The Outsiders, Ghostbusters, etc.). "When you see those movies, a lot of the time it's very elevated or polished, and that's not Hawkins," she explained.
So how did Wilcox and her team go about putting together all of the characters' season two looks? And who were the inspirations behind Billy (Dacre Montgomery), the new bad boy with a mullet, and the new Pittsburgh punks? The costume designer spilled all of season two's fashion secrets to us: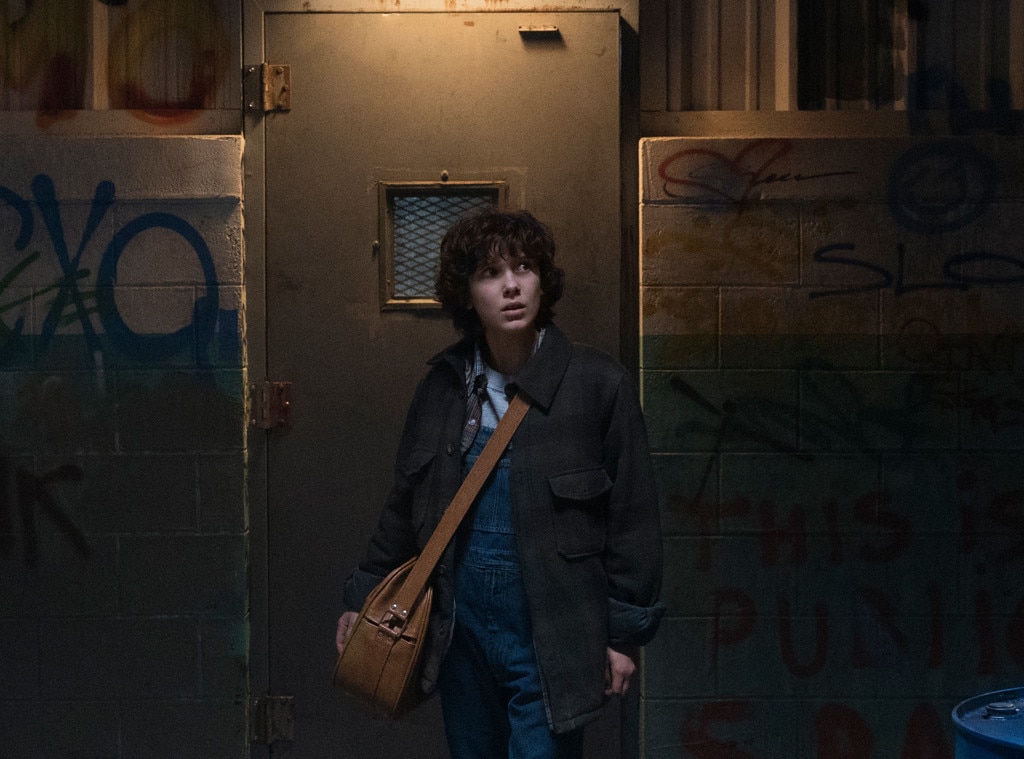 Netflix
A New Eleven
Before her punk makeover, Wilcox and Millie Bobby Brown had a lot of conversations about "where the clothes would come from for her character and whether or not they might fit."
They figured it was mostly Hopper doing what he could to grab clothes after taking Eleven in. "Maybe he went to the next county over to the thrift store and grabbed whatever he could find, maybe he had this stuff in boxes in the cabin." One piece that likely came right from his childhood wardrobe? The plaid shirt Eleven wears a lot in the cabin scenes.
"We wanted to sort of find her starting to relax and becoming more like a regular little girl as she is in this more loving relationship with Hopper," Wilcox said. "And that informs how she's dressed for the season." (Check back with us on Monday for insight into her punk makeover in episode seven.)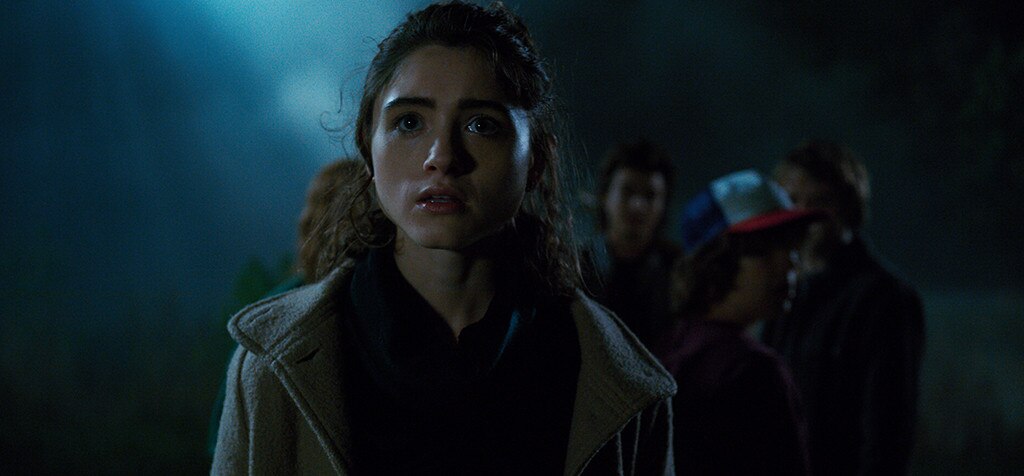 Netflix
Not a Girl, Not Yet a Woman
Another character who goes through a major change that is expressed through her wardrobe is Nancy, who is struggling to cope with her guilt over Barb's death.
"She's evolving, she's becoming a woman. In the first couple of episodes, she's trying to be normal, but it's not normal for her…there's just a lot that she goes through this season that we wanted to make sure that she grew," Wilcox explained. "We wanted to take her out of the prim and proper plaid cardigan and skirt set, and start working her into jeans…It's really fun to see her grow and for that journey to be reflected in the costumes as well."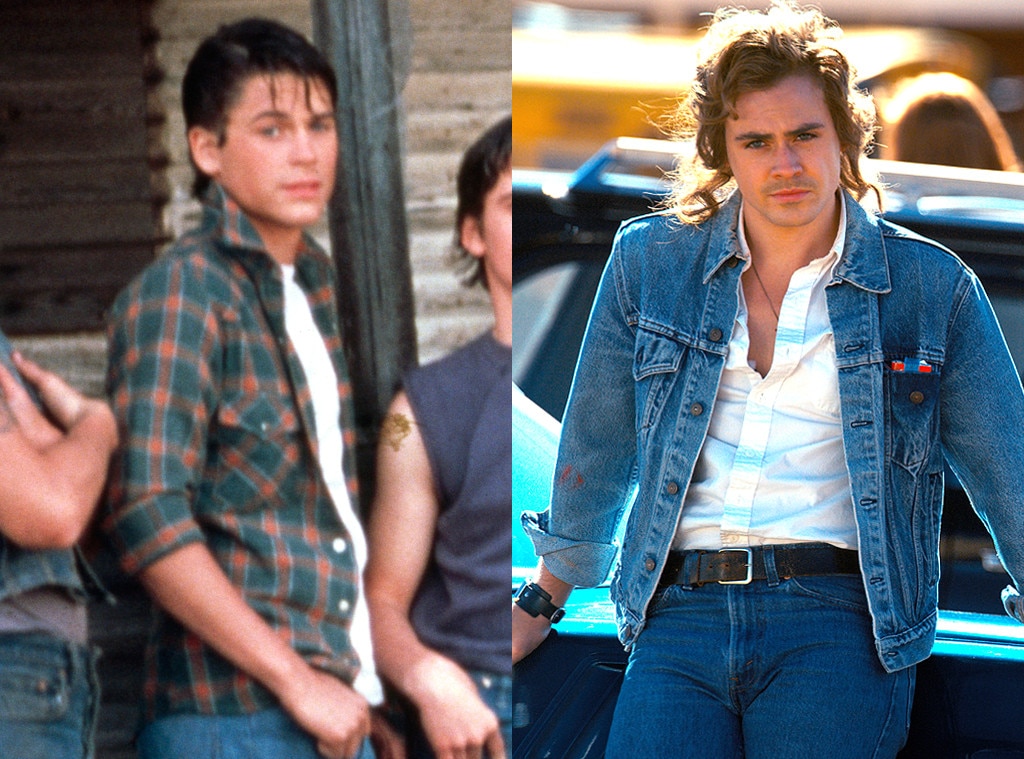 Netflix, Nancy Moran/Sygma via Getty Images
Bad Boy Billy
Wilcox said she worked closely with Montgomery, who was "a dream to work with," and TK, the hair designer, to achieve Billy's memorable look, which she revealed was a bit of an homage to Rob Lowe. "I was looking to The Outsiders for him, And also, a little bit of the Boss, Bruce Springsteen."
When he comes to Hawkins, Billy is "bringing all of this raw masculinity that we really hadn't seen before," Wilcox said. "There's a little bit of a dangerous edge to him and his jeans fit just so. He wears serious biker boots. He's got an earring. He's kind of a bad boy and we haven't seen this kind of a bad boy before in Hawkins. We haven't seen this kind of flavor and it was really fun to find him with Dacre."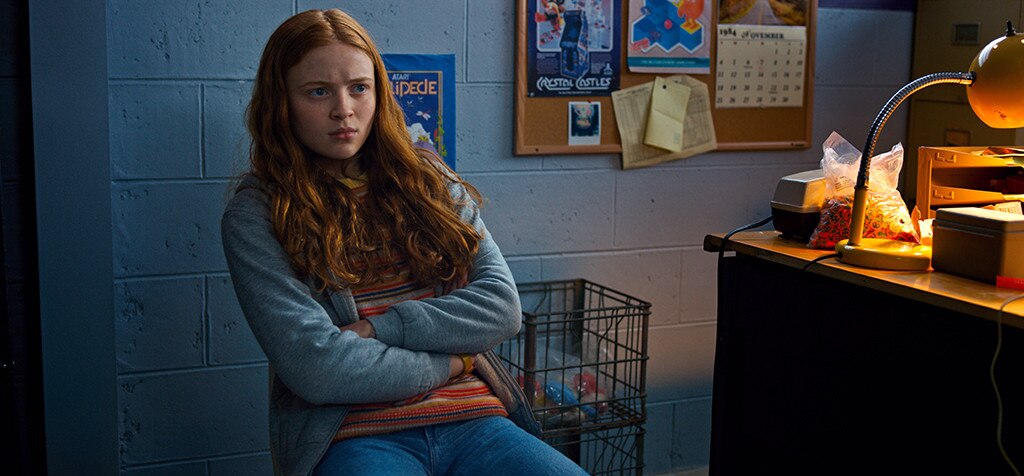 Netflix
Cool to the Max
Hawkins' other transplant definitely came in with more of a West Coast vibe.
"I was thinking about she grew up in a beach town and she loves to skateboard, so we wanted to incorporate some of the brands that I remember being very important to that particular crowd," explained. " She wears Vans a lot, we wanted to riff off some of the Ocean Pacific and Hang Ten wear that was the thing. We created some looks for her…to make her this other vibe in this slightly brighter color palette. She's the new breath of fresh air in Hawkins."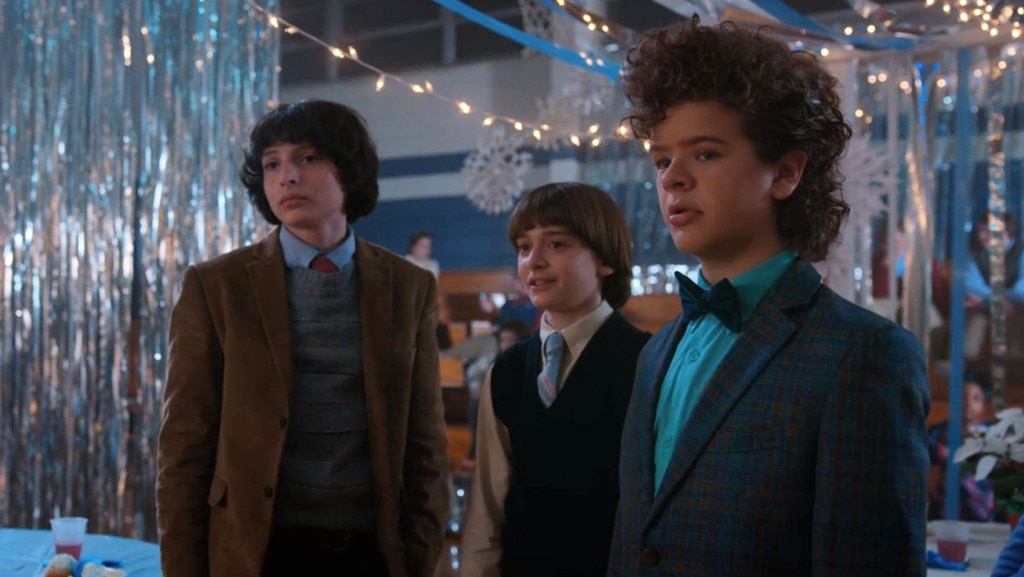 Netflix
The Beginning of Firsts
Calling the experience of working on the finale's middle school dance sequence as "magical," Wilcox also hinted that each of the boys' distinctive looks could be clues as to who they "might be becoming" in future seasons.
"It's a bunch of kids who are just on the cusp of becoming adults, it's their first time at a lot of these things," she said. "There's a little bit of awkwardness, but it was really fun to see where each boy's personality might take us in the fitting, see what was right for them."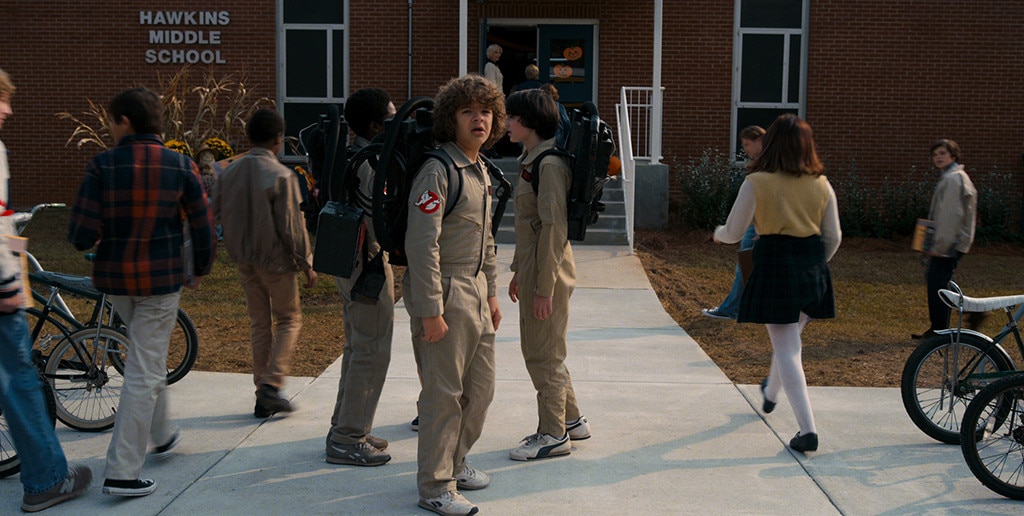 Netflix
Finding Inspiration
The show as a whole is an homage to the films the Duffer brothers loved growing up, and the clothes are a large part in nailing the authenticity. TH said they looked at films such as Gremlins, Ghostbusters, Indiana Jones and the Temple ofDoom, and The Outsiders for inspiration, and also spent time researching old collections of Tiger Beat and Cosmopolitan magazines, as well as old Sears and J.C. Penney's catalogs.
But the biggest inspiration? Real kids.
"We found middle school and high school yearbooks, so we could really get a sense of who these kids are in the middle of the country, to see what are they really wearing."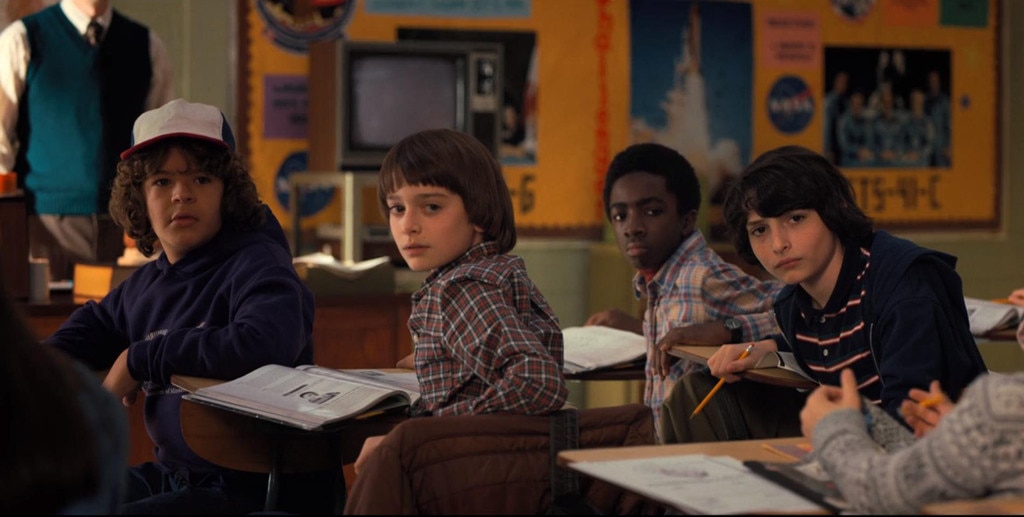 Netflix
Growing Pains
Seeing as the majority of the young cast had yet to hit their growth spurts, keeping their clothes consistent throughout filming was a major priority for Wilcox and her team.
"It's crazy," she said. "We had one kid we could not keep in shoes, like every three weeks he grew a half-size." Her solution was to find heritage brands that makes the same product in multiple sizes. "We'd buy five of them so that when somebody grew we'd have something."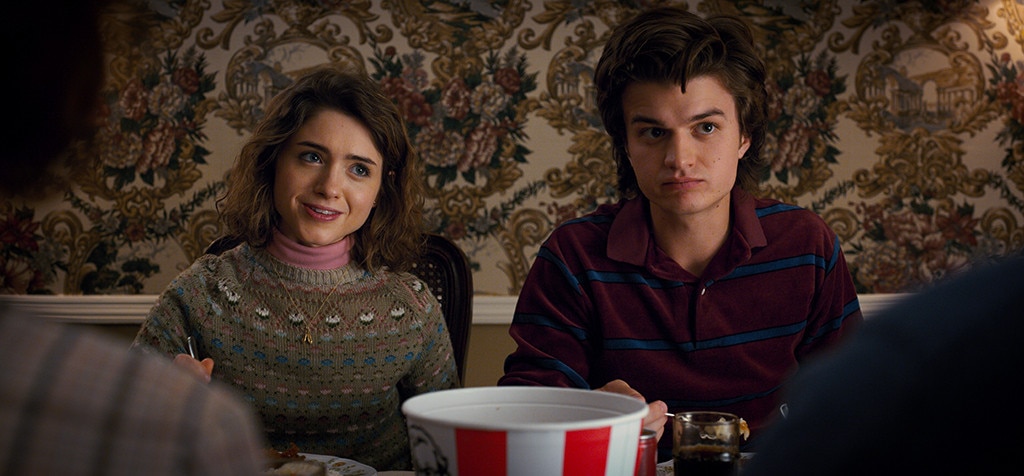 Netflix
What's Old Is New Again
While they were both born in the '90s, Wilcox said Natalia Dyer and Joe Keery are the cast members who have the "most fun" with their wardrobe.
"They play these characters who are going from high schoolers last year, but they've been through this drama, and they've had to grow up a bit faster than high schoolers have to grow up and they are becoming adults. There are changes in how they look this year that help us with this journey."
Wilcox particularly highlighted the duo's high-waisted jeans and jackets, both which are ironically both very current fashion trends.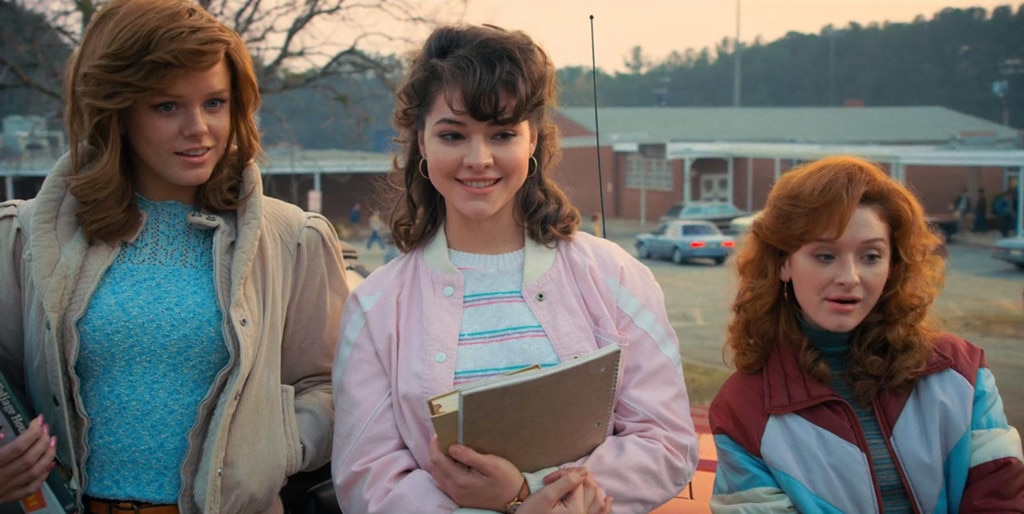 Netflix
More Colors
Season one's color palette was similar to that of late '70s films, which inspired the Duffer brothers, so a lot of "rust and tans and baby blues" were used. For the new season, Wilcox wanted to bring in colors you see in the movies and music of 1984, making the overall palette "almost a little bit happier, a little more pastels."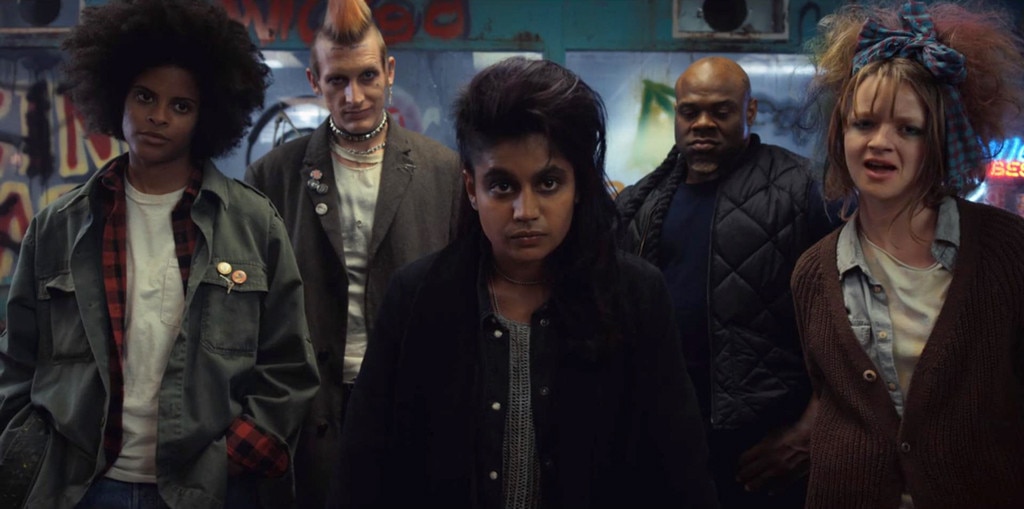 Netflix
Punk Invasion
The season began in Pittsburgh, where we meet Eight (Linnea Berthelsen) and her band of misfit bandits. Long gone are the safe small town looks, replaced with mohawks, black clothing and even blacker eyeliner.
"When we knew that this gang was coming, we started to look into the punk scene in the late 1970s and the early 1980s," Wilcox said, referencing Siouxsie Sioux and Sid and Nancy as points of inspiration.
Establishing the gang's look was "really fun" for Wilcox, as the punk look was "something we hadn't seem before in the world of Stranger Things. It was fun to branch out of our Hawkins world and out of our color palette."
Stranger Things season two is now available to stream on Netflix.
Check back all throughout the weekend and on Monday for even more exclusive scoop on Stranger Things season two, straight from the cast and crew.