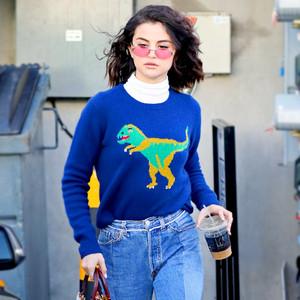 It's back to basics.
Whether denim is distressed, cropped or even laced together, celebs are finding interesting new ways to wear it. At the same time, feeling inundated by options is also now a legit concern. There are so may trendy design elements that finding the right one to fit your style may seem intimidating. Sometimes, less is really more.
"Denim is timeless," said celebrity stylist Christian Classen, who calls Selena Gomez, Dove Cameron and Bebe Rexha clients. "I love pieces that aren't stamped with a date."
We've seen the pro style his celeb clients in seemingly simple, classic denim looks that still have an impact. For the minimalist, there's that Time mag editorial, in which the "Bad Liar" singer wore a plain white Vince tee and The Row jeans. For the bolder style savant, there's that time he dressed Selena in cropped flared jeans with a frayed hem and a dinosaur sweater over a turtleneck. Lesson learned: You can still impart a distinct style without having to be so obvious with your denim.
"I'm not a fan of trends. But I love a good mom jean. I also love all denim to be tailored and clean. Any pre-made tears or aesthetic stains/washes…that whole trend can disappear forever," he added.
Christian's current denim obsessions, however, can stay.
Don't have the celebrity bank account to support his finds. The pro stylist also shared the key to finding a quality true blue (or black, or white, or whatever) jean.
"[Find] Enough stretch for comfort but not too much stretch that it becomes a legging," Christian advised. "Sometimes the most expensive denim is so stiff that it takes months to break in. I don't know anyone who has time to work in those hard fabrics. It's about 70 percent fit and the rest is about comfort. What doesn't fit can be tailored by an expert denim doctor."