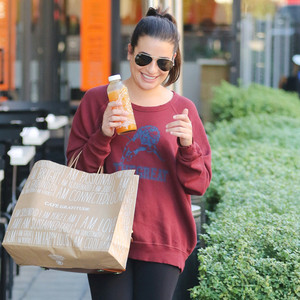 It's hard to get black sneakers wrong. 
There is, however, a way to get them oh-so right. Sure, step into some Nikes for a classic default—but when you want to rock a pair of sneaks with more fashion appeal, it all comes down to the details. 
Take Lea Michele's Athletic Propulsion Labs kicks—everything from the black rubber soles to the interesting knit pattern to the jumbo laces come together for a solid shoe. We also cannot forget comfort is key and, of course, pricing. Lucky for you, you can grab Lea's pair for 30 percent off on Net-A-Porter. That's almost $ 50 off!
We know you'll be doing plenty of shopping this weekend, but at least now you'll be comfortable and look good doing it. 
Ready to put some mileage on these babies?