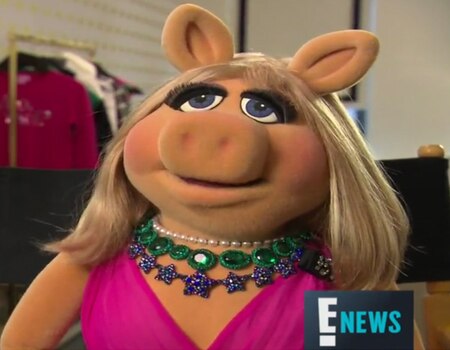 Miss Piggy is taking the fashion world by storm—as if that's a surprise.
The ever-fashionable pig has recently announced that she will be collaborating with Kate Spade New York for a one of a kind Miss Piggy-inspired collection and a short ad-based film titled Miss Adventure.
"I am the embodiment of the Kate Spade girl right now," Miss Piggy told E! News in an exclusive interview, spilling all of the details about her collab with Kate Spade's Chief Creative Officer Deborah Lloyd.
Wearing a Deborah Lloyd holiday special, which was designed especially for her, Miss Piggy was all smiles when talking about her newest fashion venture and her love for the CCO.
"I have been her muse for years," she said. "I've always loved Kate Spade. I'm quick, I'm smart and I'm strong. Just like Kate Spade. We are synonymous. The Kate Spade girl and moi? Same thing."
"I love everything in my collection," the fashion icon explained. "I'm a shoe girl, I'm a dress girl. I have everything, [and my collection] is bold, it's strong, it's pink, it's polka dots, it's fun. All of these things are things Kate Spade does well. So it works."
And Miss Piggy wasn't the only one to comment on the new line either.
After working for Banana Republic and Burberry, Lloyd joined the Kate Spade brand as Chief Creative Officer in 2007 and began overseeing all creative aspects of the company, including merchandising and design. Therefore, it is no surprise that she played a huge part in the Miss Piggy-inspired line, and that she had nothing but positive things to say about the famous pig.
"She was the one. She inspires everything about this collection. We are kindred spirits. Our favorite colors are pink. Second is glitter. We're a match made in heaven," Lloyd explained.
As for who inspires Miss Piggy's personal fashion sense? The classic women of Hollywood, of course.
"I love the Golden Age of Hollywood. I idolize people like Marilyn Monroe, Grace Kelly, Ingrid Bergman," she fawned. "I'd also say Audrey Hepburn always looked good in what she wore, but she also came up with breakfast at Tiffany's and I never thought of that before her."
The models of the current age, though? Miss Piggy says that she isn't as awestruck by them as the rest of us.
"No [I don't aspire to be like them], but that does not stop them from idolizing moi," the fashionable pig said. "Jourdan Dunn for one, she is following me everywhere these days. She followed me to a photo shoot for Kate Spade just the other day."
But don't think Miss Piggy is letting her new fashion fame go to her head. She is also using it to push her beliefs on the fashion industry's size standards, and Miss Piggy is all for inclusiveness.
"It's important that people like Kate Spade New York make clothes for everyone, you know. Everybody isn't the same size," she explained. "You know, I am petite but curvy, and you are tall and slender. And we can both of us can wear Kate Spade."
"It just makes good business sense if you think about it, everybody's gotta wear clothes," she finished.
While we did focus on fashion, don't think we didn't ask about her relationship with Kermit the Frog, who Piggy infamously split from last year after rumors swirled that Kermit had moved on.
"You can't believe, I am having fun. I am having fun. Kermit, who's that?" she asked. "I have even more style now. I'm living life out loud. I'm getting even more attention now and part of it is because of Deborah."
But she did give us some hope that a reunion may happen in the future.
"You never know what might happen," she said. "Look, who would have thought they would make seven, seven, of those Vin Diesel Speed Racer movies?"
We wish you the best of luck, Miss Piggy, and we can't wait to see what designs you have to offer.
You can catch the Kate Spade collab and Miss Piggy in her Kate Spade film debut, Miss Adventure, this December.