Entertainment
Published on January 19th, 2017 | by
0
Michelle Obama, First Lady of Style: A Look Back at Her Fashion Legacy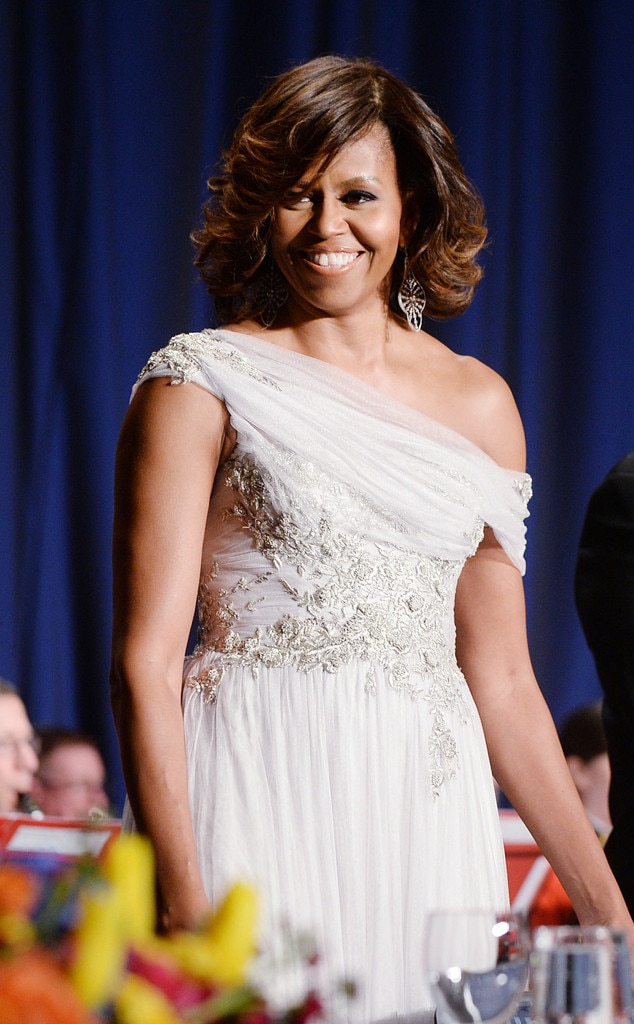 Olivier Douliery-Pool/Getty Images
The fashion industry is going to missMichelle Obama.
Whereas first-lady style used to be comprised of lavish, luxurious ensembles, saved for the day dreams of American women, Barack Obama's better half brought a refreshing twist on "traditional" White House styling, making her clothes relatable and, more importantly, accessible for the public.
The ivy league-educated lawyer and mother of two used forward-thinking fashion not only to communicate her ideals, but to point a larger message of who is today's American woman. Inclusion, diversity, health and positive body image are just a few of the themes that propelled a worldwide fixation on this particular FLOTUS' style.
Since Obama's 2009 inauguration, Michelle's outfits have expressed a message, with its significance residing in what, who and where she's wearing it. Stylist Meredith Koop played the lead in helping the first lady make smart choices.

"I am impressed by Meredith's ability to think not only about fashion but also the moment and the message," the first lady told Harper's Bazaar last year.

Today, we look back at Michelle's style legacy.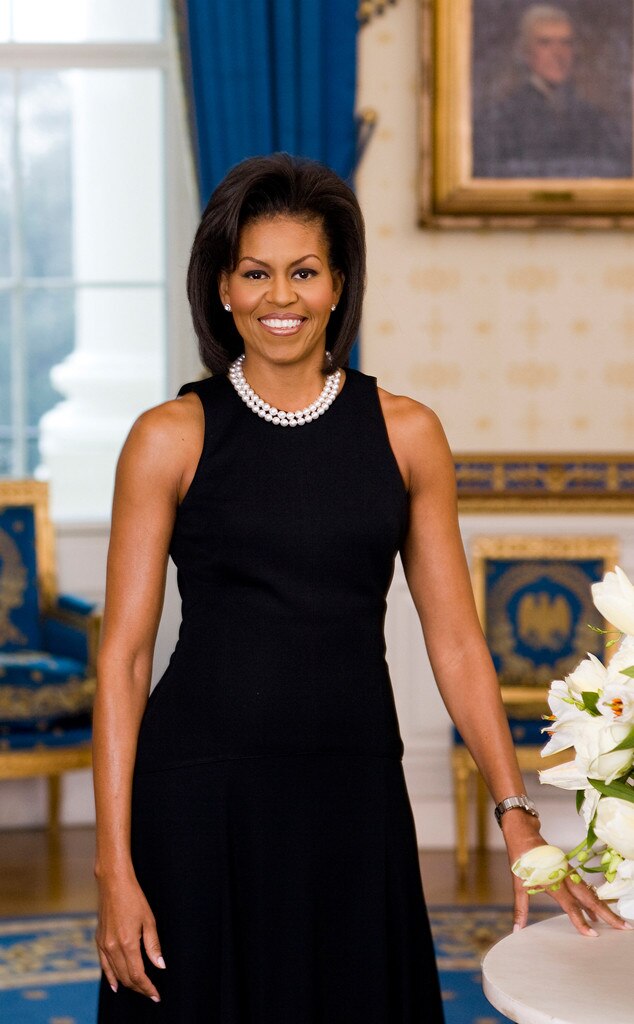 Joyce N. Boghosian/The White House via Getty Images
In 2009, Michelle released an official White House portrait wearing a sleeveless black crepe jersey gown from Michael Kors. While conservatives voiced "concerns" regarding her decision to show her arms, in what was then called "Sleevegate," many Americans showed appreciation for her muscle tone. The first lady responded by continuing to wear sleeveless silhouettes, literally and figuratively embodying a strong woman.
The health and body image message behind "baring arms" became increasingly significant, as she launched of the "Let's Move" initiative, a health campaign to end childhood obesity, in February 2010.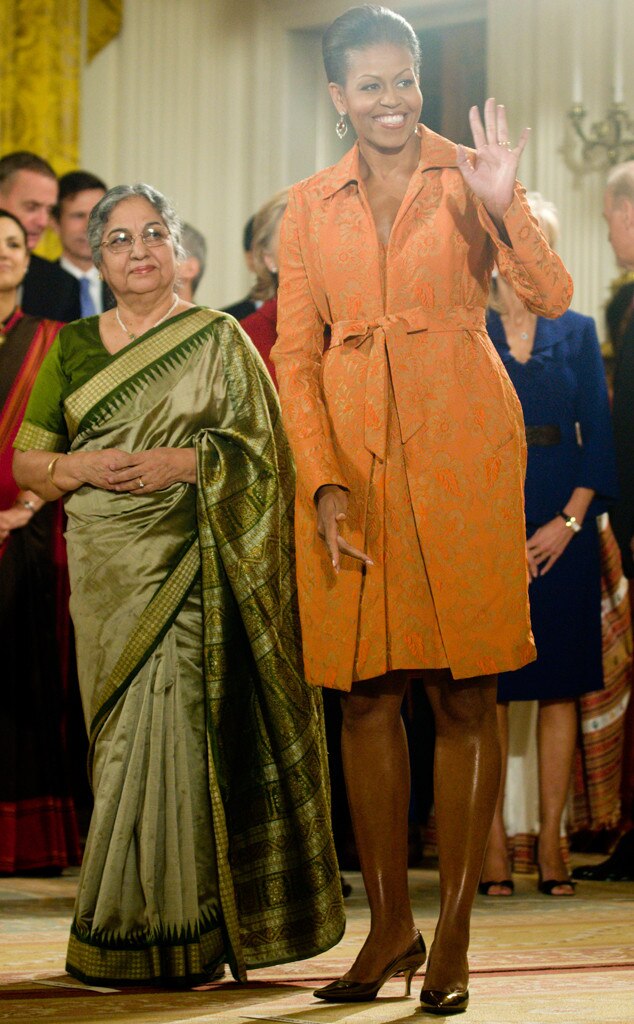 Stephen J. Boitano/LightRocket via Getty Images
As the first African-American FLOTUS, Michelle was dedicated to diversity, and inclusion was consistently threaded through her style choices. Tracey Reese, an African-American woman, Naeem Khan, an Indian-American man, Joseph Altuzarra, who has a Chinese-American mother and French Basque father and Marc Jacobs, an advocate for the LGBTQ community, are just a few of the designers that made their White House debut dressing the first lady.
American fashion brands Thom Browne, Brandon Maxwell, Zac Posen, Alice & Olivia and Calvin Klein are also a part of her extensive list of designers.
In her last Vogue cover as first lady, the mother of two said, "It all boils down to comfort level: If I'm going to make you comfortable, then I have to be comfortable first…There are definitely designers that I love, people I love to work with. And who they are as people matters. Are they good people? Do they treat their staff well? Do they treat my staff well? Are they young? Can I give them a boost? But! When all of that is equal . . . is it cute?!"
"Is it cute?" is a question that every woman can relate to. Unlike many fashion icons, Michelle's style is both inspirational and relatable, mixing luxury and affordability. Beyond American designers, the FLOTUS has supported a number of brands with reasonable price points, such as Target, Gap, J. Crew, Liz Claiborne and Nike. In fact, when the first lady appeared on The Tonight Show in 2008, sporting a yellow J. Crew cardigan, patterned top and pencil skirt (totaling at approximately $ 415), she told viewers, "Ladies, we know J. Crew. You can get some good stuff online!" In the days following her refreshingly relatable take on her outfit, the company's stock rose 25 percent.

For the record, the first lady is not paid to wear anything, an apparent plus for American consumers. Harvard Business Review reported that any public appearance by the first lady averaged $ 14 million in average value for brands worn during the occasion. That comes out to $ 2.7 billion in total value for 29 fashion brands worn during her 189 appearances. Her fashion choices stimulated American business in its own right.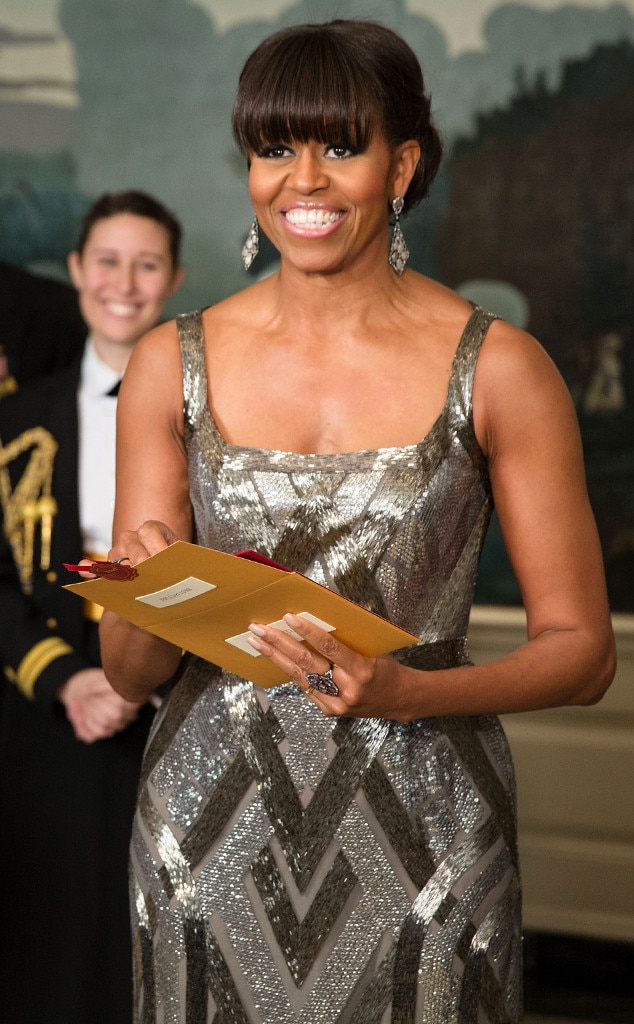 Pete Souza/The White House via Getty Images
In the beginning, there were many that said that Michelle Obama didn't encapsulate the style of a FLOTUS. In the end, however, it is her confidence to be daring and modern, while never compromising class or accessibility, that will be remembered. She's also left a window open for future first ladies to express their personalities and goals with their style.

How will future first ladies carry on this legacy? We can't wait to see. 
E! Online (US) – Fashion Police