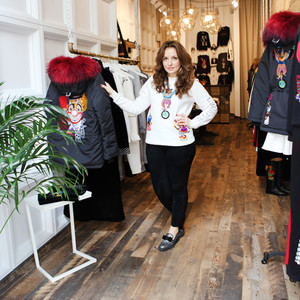 There are very few people in the world that can turn a white sweatshirt into a fashion industry must-have.
Russian fashion designer Katya Dobryakova can do this with ease. Famous for her social commentary, wit and design, the artist has brought her brand from Russia to the Soho district in NYC with the delight of celebrities (like Rita Ora) and style influencers. From custom jean jackets to embroidered sweatshirts, shopping in her namesake stores will guarantee standout pieces that will have onlookers thinking about your garments long after you pass.
How did this graphic designer become a transcontinental fashion sensation? Check out our interview below!
What was your first job?
After graduating with a degree in graphic design, I worked at Sony Music designing album covers for some of Russia's most influential musical acts.
How did you get into the industry?
It all happened by chance! I bought some T-shirts at H&M, and on them, printed an ironic image of Vladimir Putin for my friends. Soon these T-shirts became so popular that I was receiving requests from Officiele and Vogue Russia to make special edition shirts for Fashion's Night Out.
What is a typical day like for you?
I would wake up and go to the office; I have breakfast at my favorite cafe downstairs, where I also organize some business meetings, then I work on the collection. Depending on the evening, I may attend events too.
Tell us about your office. What makes it unique?
My office is my second home, a two-floor penthouse on Patriarch Ponds, the most beautiful district in Moscow. It has everything: a big kitchen, washing machine—after production we usually test-wash to check the quality of the embroidery—and lots of windows, which makes the space very open and welcoming. All this makes you feel at home.
What is your favorite item in your office?
Honestly, my computer. It is half of my life; all my files and archives are located there.
What's the best part about your job?
The most rewarding moment is finalizing a collection and seeing people's reactions.
What's the most daring career risk you've ever taken?
Opening a store in NYC, the first in the US, has been my biggest endeavor.
Who is your career hero/role model?
Alexander McQueen
What is the best piece of advice you've ever received?
"The darkest hour is that before the dawn."
What designs are you best known for and why do you think you do it so well?
Irony is my forte. I am well known for smart slogans on T-shirts and virtuoso embroidery.
Tell us about your celeb fans. What items do they like/wear/request/post about the most?
Celebrities love our customized denim jackets, all hand-painted by myself. We've collaborated with Disney on jackets featuring Mickey and Minnie Mouse, which quickly became must-have items.
What exciting things do you have coming up?
We are currently discussing a new collaboration with Disney.
If I wasn't doing this job, I would be… a chef.
My favorite place to visit is… the South of France.
The book I'm reading right now is… Immortality by Milan Kundera
Next investment piece on our list? Those jean jackets.