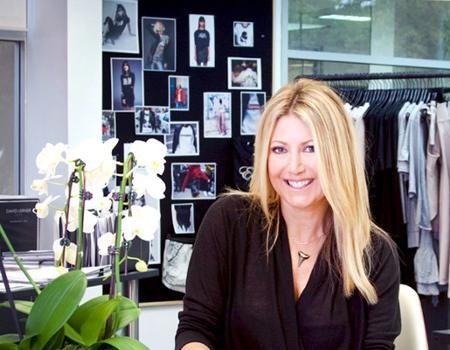 When they aren't walking the runways or performing on stage, what do celebs like Taylor Swift , Alessandra Ambrosio, Kendall Jenner, Bella Hadid like live in? Like us, something comfortable.
Which is why you can often spot the celeb set in David Lerner best-sellers. The Los-Angeles-based brand is best known for its fashion-forward leggings. And come this winter, we'll be sure to see more stars in the brand's popular vegan offerings and track pants. But how do you get Hollywood It Girls to support your brand in the first place? A lot of dedication and hard work. Here, Jacqueline Krafka, brand director & VP of design, shares what it really takes to be a trendsetter.
What was your first job?
My first job was in the swim industry. I was living in Orange County, and the company was called Raisins Swimwear.
What's the best part about your career?
I get to do what I love and make a living at it. I am always excited for Monday mornings to see what the week will bring. I also love the talented people I have always been surrounded by over the course of my career. They keep me inspired and I have grown through the relationships I have made.
What's the most daring career risk you've taken?
Actually, I would say it is with David Lerner, bringing treatments and concepts from the denim world and applying them to our Spandex legging fabrics. It is a tricky process to produce and something that was not being done in this space.
Who are your career heroes?
I would say Diane Von Furstenberg. I admire her career and how she created and maintained her aesthetic all these years, yet also has been able to evolve with our ever-changing world and achieved such longevity. I have a lot of respect for her.
What's the best piece of advice you've ever received?
It takes a genius to keep things simple. Do not over complicate things.
What's a typical day like for you?
I wake up in the wee hours and can't resist checking my emails, then first thing in the morning it is Instagram. I like to enjoy coffee while checking in with some of our online customers to see how we are looking, then it's get ready, hit the road taking in phone calls on my commute. Once in the office I try to answer a few more emails and then meet, one by one, with each team member from design, to graphics, production, marketing etc., to strategize the day and week… Fittings, fabric appointments, design review, art approvals…it goes on. I love the constant stimulation. It keeps me on my toes and engaged.
Tell us about your office décor.
Well, our office is one division within our parent company Jerry Leigh. We are lucky to get to work in a clean, modern beautiful environment; however, we definitely try to carve out a little David Lerner DNA into our space, with black accents, mood boards everywhere, a wall where we build our graphic story, a comfy fitting area where we can sit as a group and try on everything from production fitting samples to inspiration samples. It is one giant closet. I feel like I am changing my clothes all day every day.
What's it like to see your clothes on celebrities?
It is the ultimate gratification to see anyone wearing the product. It is a true validation, as there are so many amazing choices out there and especially if it is a celebrity, whom has the ability to wear most anything, it is the best compliment.
If you could dress anyone—living and dead—who would it be?
Jacqueline Kennedy…my namesake and a true American fashion Icon. She made everything she wore look effortless yet polished. Scrolling back to the best advice I ever received: "It takes a genius to keep things simple." This is what they meant, and she nailed this concept.
If you had to pick on piece from your collection to truly represent yourself, which what it be?
The Gemma pant in vegan leather: It is classic, easy, versatile, sleek. I'm not sure I see myself exactly as that description, but I'd like to think I try. This pant is the best foundation to any fall wardrobe. I literally get stopped wearing it all the time—a must-have piece.
Finish the below sentences.
Today for lunch I had… A laugh attack. We sit together every day in a group lunch with each of the heads of the different divisions within our parent company, and can I just say what happens at lunch stays at lunch. It's the best.
The first website I log onto every day is… DavidLernerNY.com
The last thing I Googled was… Hippest new restaurants in Paris (planning for an upcoming trip).
My usual coffee order is… A grande soy cappuccino "wet" please!
If I wasn't doing this job, I'd be… Annoying my children
List five things on your desk right now… My white pottery/succulent garden, a creativity crystal I bought at the Rose Bowl, a diffuser w/ essential oils, lots of reports and papers everywhere.
The book I'm reading is… I'm getting ready to start Give and Take, by Adam Grant, on my upcoming trip. Travel is the most realistic time for me to read. I'm just too tired during the week and usually overstimulated by the time I get home.