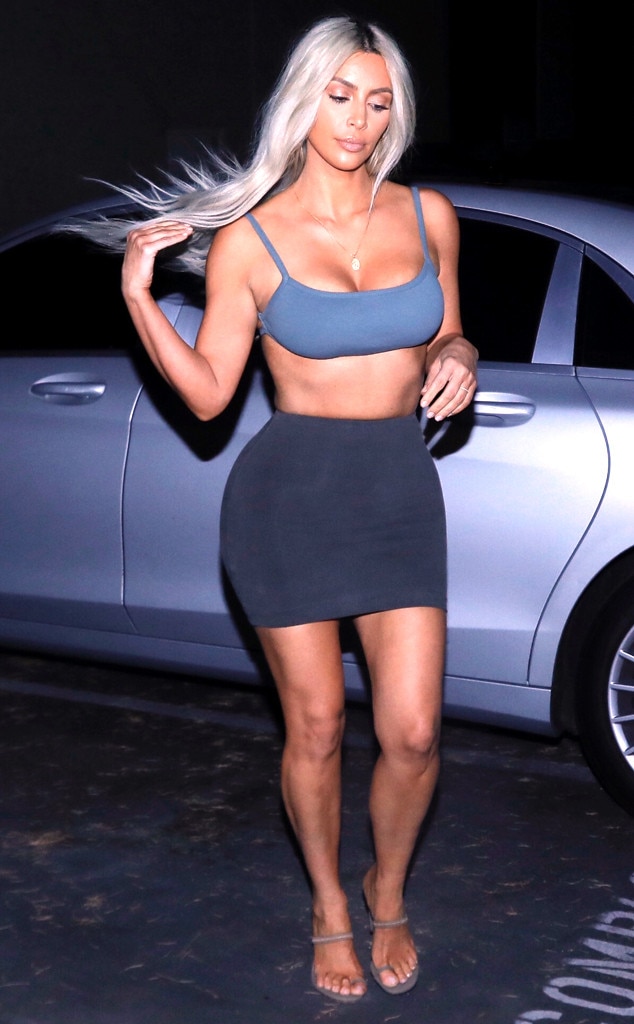 Splash News
Kim Kardashian's love for Yeezy is definitely locked down.
For proof, look no further than Tuesday, when the reality star, makeup mogul and famous wife of Kanye West sported her husband's designs. Yes,designs, because she wore not just one, but nine different looks from the brand in just 24 hours.
"My schedule was so busy, I ended up in nine different Yeezy outfits in one day, LOL! " the soon-to-be mom of three wrote on her website. "For each look, I wanted to stick with neutral vibes."
While the outfit-changing magic is impressive on its own, Kardashian also revealed she was sporting designs from Yeezy's anticipated Season 6 installment, which has yet to be officially debuted by the rapper.
While there was speculation that the latest collecting with Adidas was going to be unveiled at fall New York Fashion Week—and subsequent reports later claimed the show had beencancelled—E! News learned that there was never a show on the schedule in the first place. Instead, as a source said in September, there will be a presentation or showroom for the Season 6 collection, but it won't happen in the near future.
As fans await that day, they got to preview some of the pieces thanks to West's leading lady. Kim's looks ranged from curve-hugging mini skirts to a baggy duster coat in muted shades like gray, light-wash blue, cream and charcoal. The simple silhouettes also prominently featured tube tops and included caps. As for the footwear, the shoe styles ranged from sneakers and boots to heeled slides and open-toed pumps. See all nine looks below: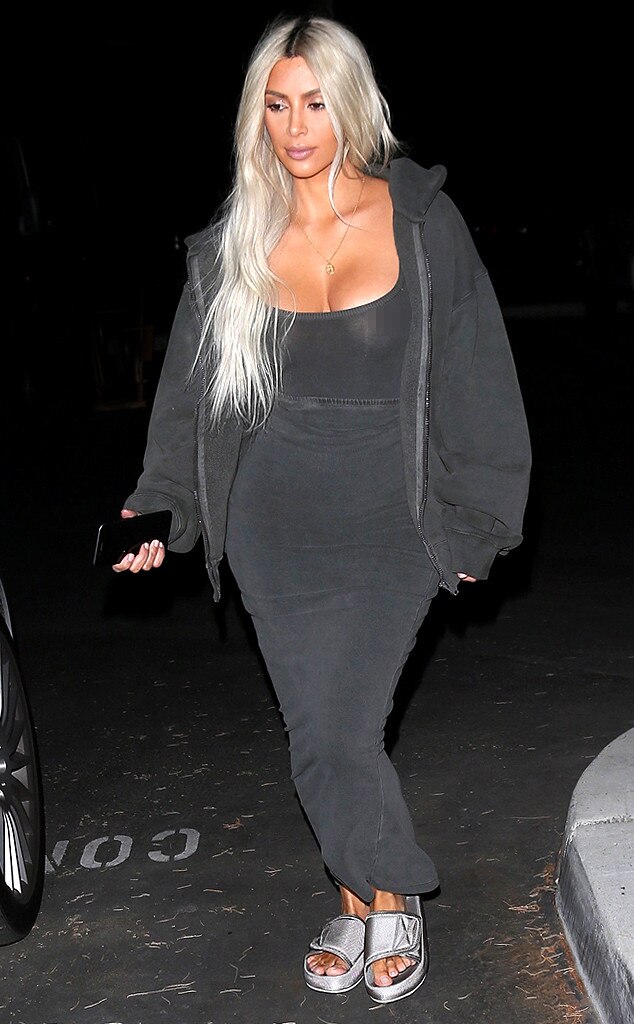 Splash News
Beauty in Black
Kardashian mixed comfortable with cool as she layered black pieces with a pair of slides.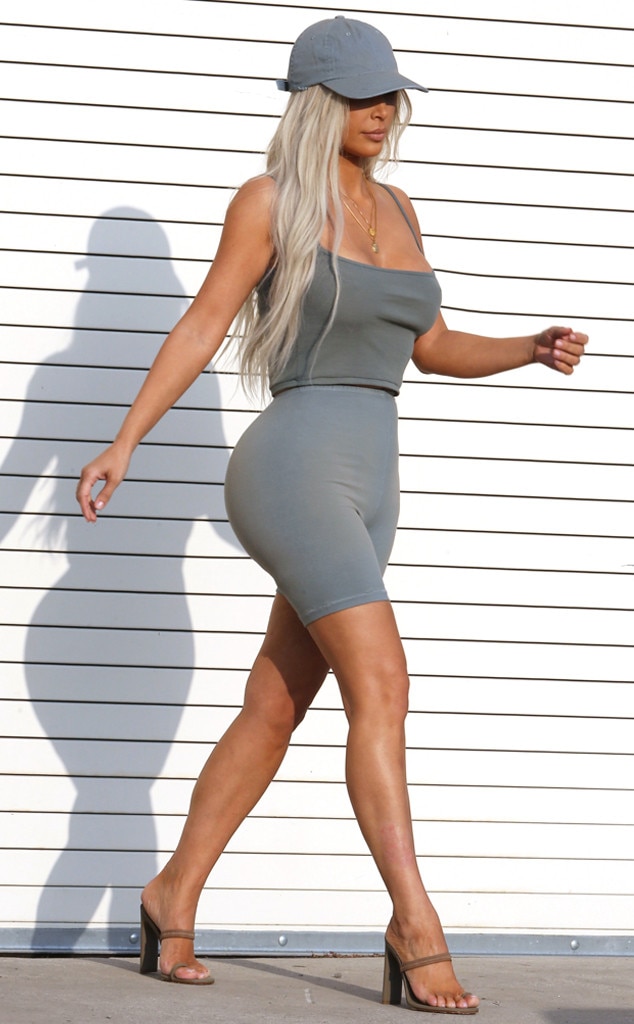 Splash News
Shades of Gray
For a laid-back look, the reality star opted for shorts and a tank top, but kept her heels on.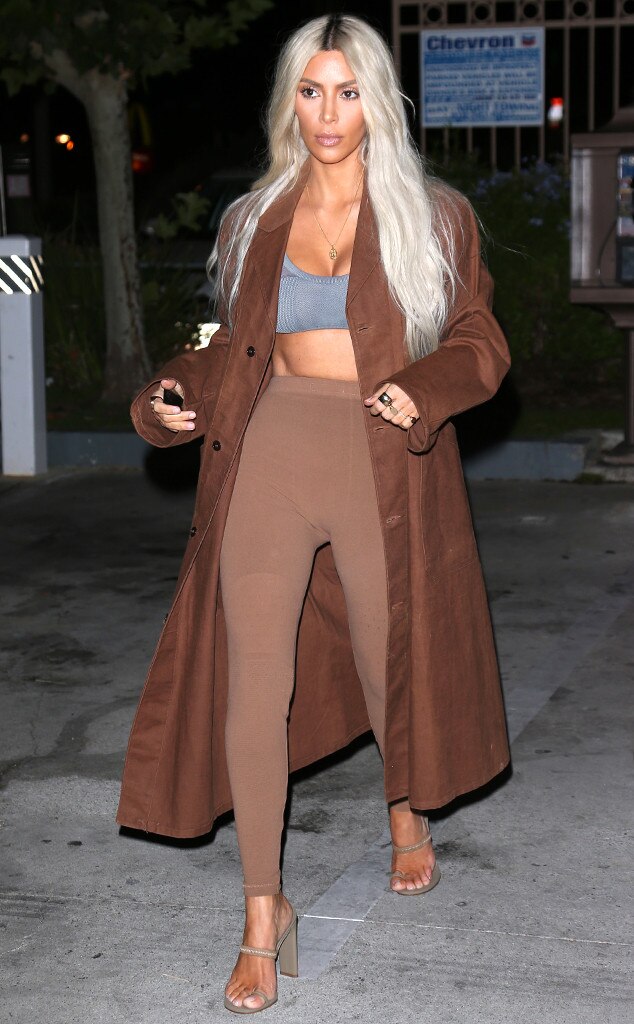 Splash News
Cool in a Coat
The mogul was prepared for any weather with help from a chocolate duster coat.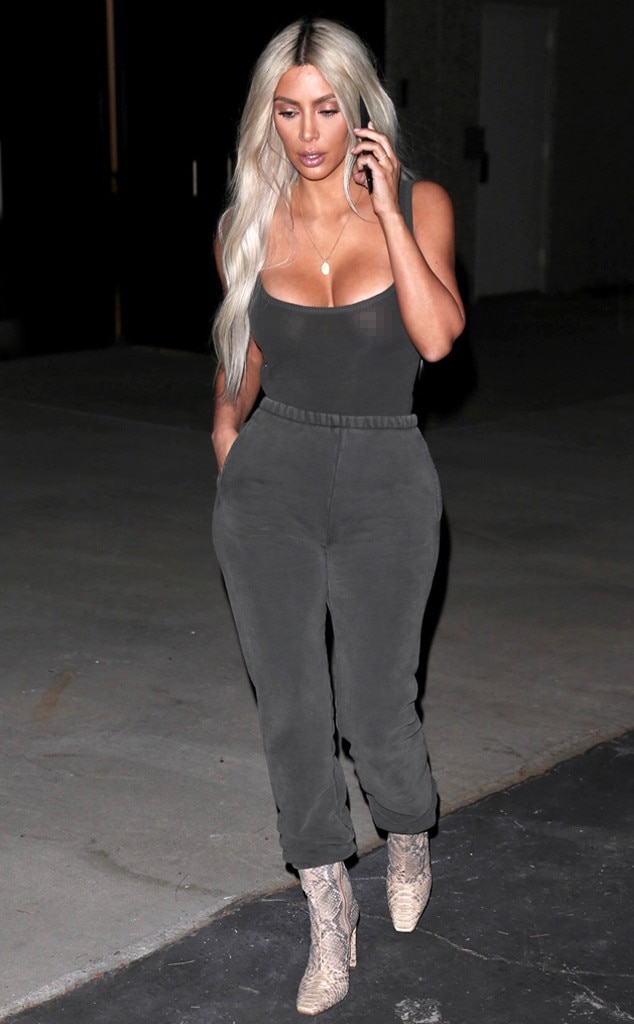 Splash News
Hello?
For another look, Kardashian sported all black with a pair of snake print boots.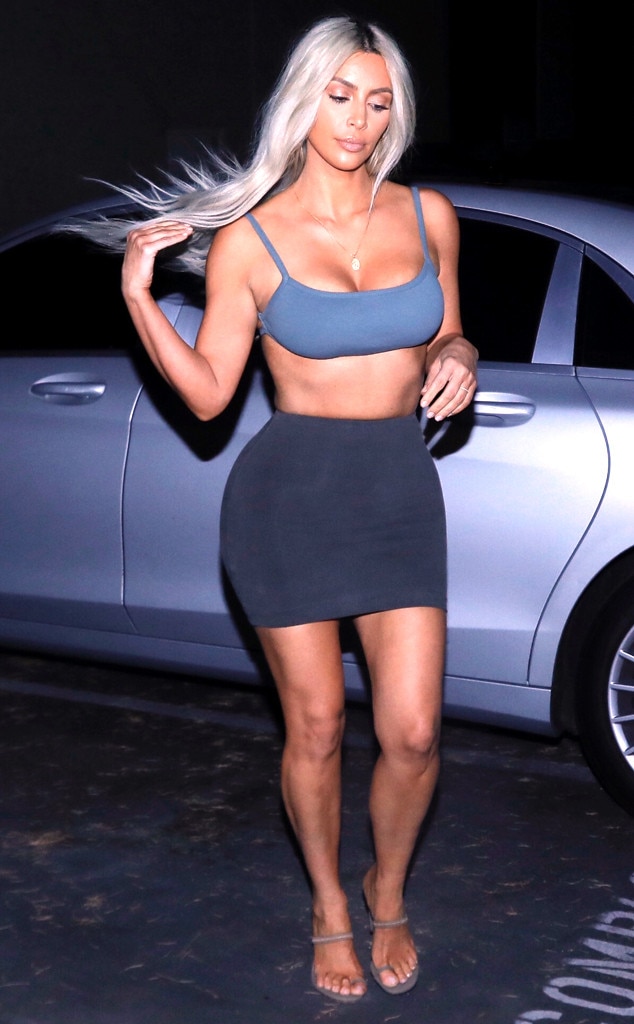 Splash News
Hair Flip
The reality star stepped out in a curve-hugging mini skirt and coordinating crop top.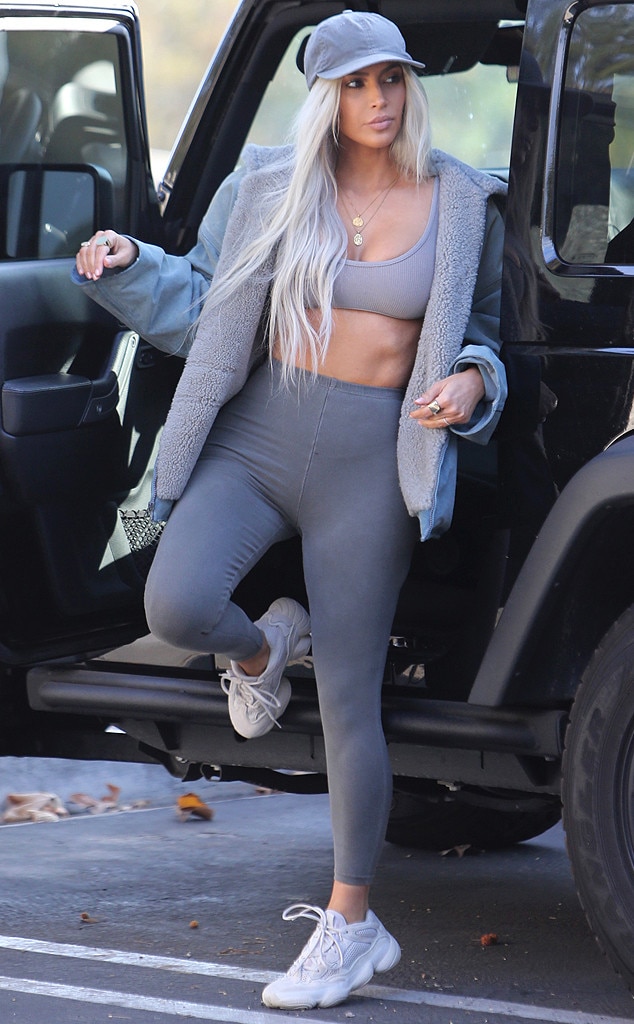 Splash News
Capped Off
For this ensemble, the future mother of three accessorized with a simple cap and kept the look low-key in sneakers.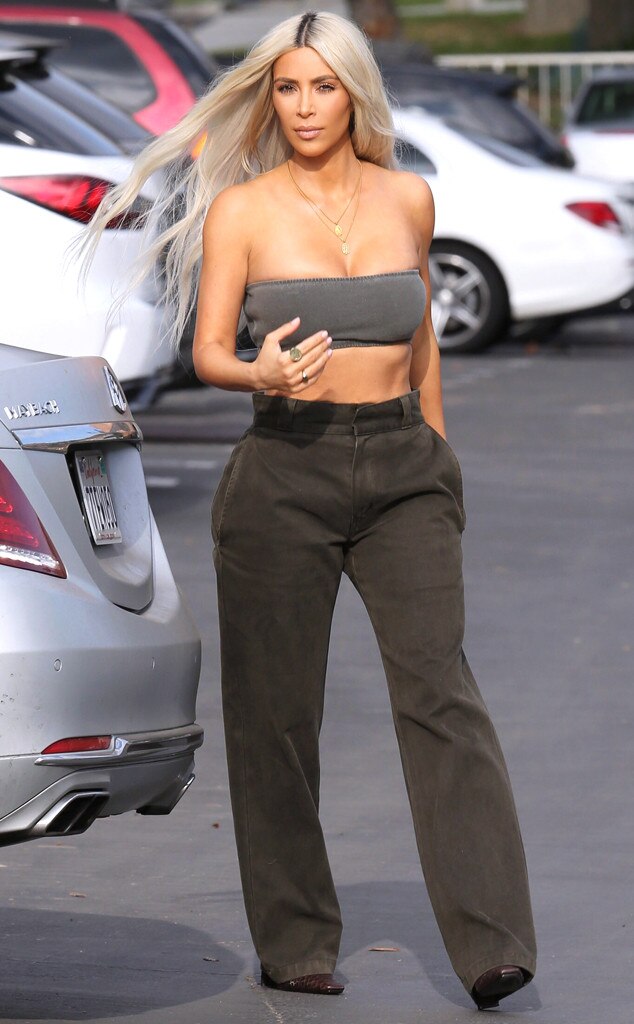 Splash News
High-Waisted
The star channeled her idol, Cher, in a tub top and wide-leg trousers with cascading bleached blond locks.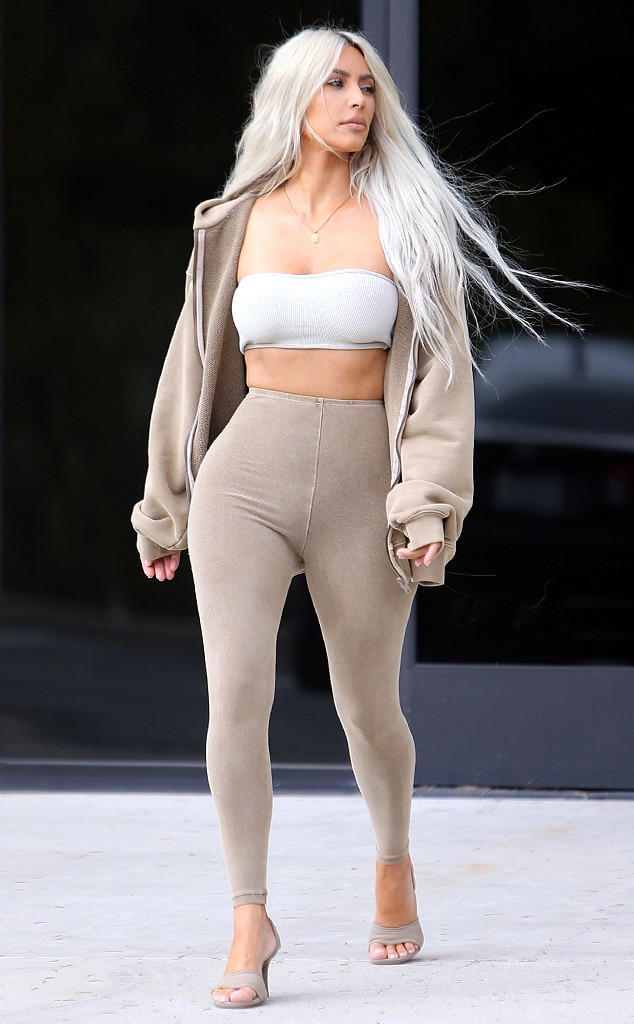 Splash News
Cozy Chic
Fashion met comfort for this look, finished off with a zip-up sweatshirt.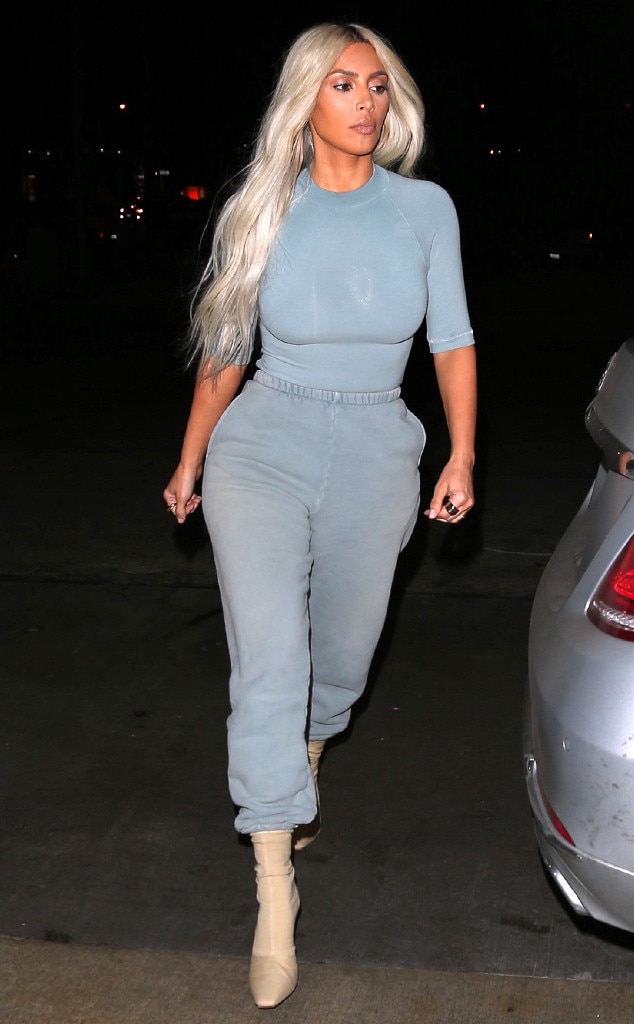 Splash News
All Blue Everything
For this look, Kim's theme was fashionable monochrome.
What do you think of the looks? Chime in with a comment!