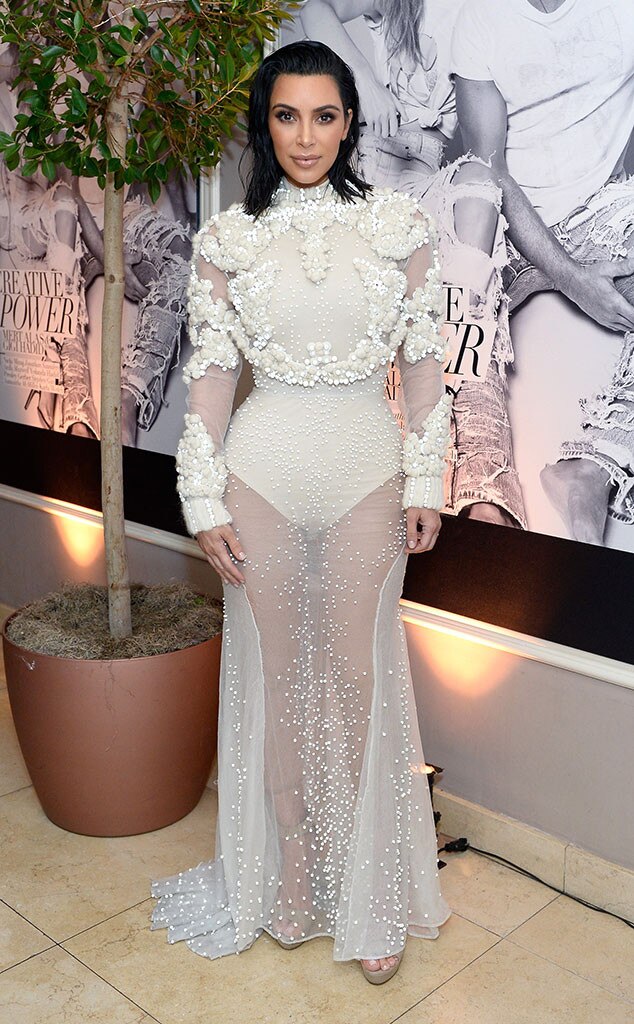 Stefanie Keenan/Getty Images
Is Kim Kardashianrenewing her vows or just her commitment to couture? 
The E! reality star and business mogul stepped out Sunday evening for the Fashion Los Angeles Awards, where she is slated to present an honor alongside fellow presentersLily Aldridge, Hailey Baldwin, Fergie, Ashton Kutcher and Busy Phillips. 
Kim looked breathtaking in a completely sheer Givenchy gown, which she explained on Twitter was inspired by the Givenchy look she donned for her 2014 wedding to Kanye West.
"I think seeing this pic is a sign," she tweeted alongside a bridal selfie shortly before hitting the red carpet. Maybe I will wear @givenchy tonight."
North West and Saint West's mom also rocked a much shorter hairstyle, quite a glamorous departure from her Cher-esque locks. 
Kim polled her fans for advice on whether to "go in something more chill or something really fancy," but ultimately decided, "Fancy it is!"
During tonight's festivities, Kim's close friend Mert Alas received the Creative of the Year award andGigi Hadid was honored for Best Design Debut for her fashion collection with Tommy Hilfiger.
Additionally, Paris Jackson received the Emerging Talent award, Stella Maxwell for Model of the Year, Nicki Minaj for Fashion Rebel, Presley Gerber for Emerging Model and Yolanda Hadid for Mother of the Year. Nick Jonas hosted the Fashion Los Angeles Awards.
"Mert and I both going to be really short tonight; we both didn't of that much to say and I can't really suck in that much longer, so…" Kim began, drawing laughs from the A-list fashion crowd. The reality star went on to describe her photographer friend, saying, "First of all, he let me call him 'Mert' for like two years and didn't correct me that it was really [pronounced like] 'Matt,' so he's such a gentleman. He is the kind of guy that when you're going through something tough he'll come over and bring you ice cream and just be there with you. Then, after a little a while, he'll tell you you've got to stop eating that ice cream because you've got to start shooting."
"We share endless beauty tips. He's also the kind of guy where I've sworn I'm never going to do a nude shoot again and my publicist will kill me to have to stand on set. Then she'll go to the bathroom and he'll get my clothes off and we'll just [do it]. He's honestly the funniest person I've ever met in my entire life. I've never met a more genuine person, someone who care so much about what's really going on in your life aside from all the beauty and the fashion."
Mert "captures memories in our lives that you always want to remember," Kim continued. "You always see these gorgeous photos—even if you're 10 lbs. overweight—and he'll still, still get the best angles, you know? But all these photos that you can look back on for the rest of your life and remember that period in time. I'm truly so honored to be here to present this award."
"He's giving me this look like, 'Ah! I have to give this speech! Talk as much as you can!'" Kim said, drawing more laughs. "He's just truly one of my greatest friends, and we're going to run off to the Chateau [Marmont Hotel] and eat French fries after this. So, get up here! Come on!"
Click through the gallery above for every showstopping look from the Fashion Los Angeles Awards red carpet!
Watch Keeping Up With the Kardashians tonight at 9/8c only on E!