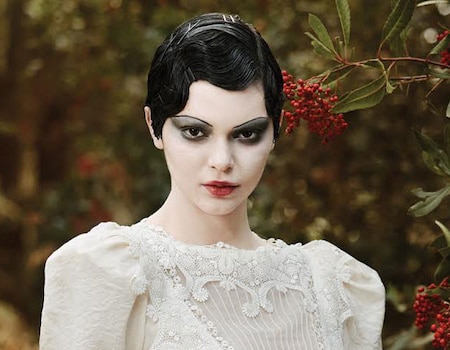 Kendall Jenner just took a fashion deep dive.
As one of V Magazine's muses for the new spring 2018 "Discovery" issue, the 22-year-old posing pro headed into the forest for her latest magazine editorial. The resulting shoot is a sartorial splash as Jenner renders herself nearly unrecognizable in bold standout ensembles.
Outfitted by stylist to the stars Karla Welch, the reality star sports a frock of colorful fringe in one scene, transitions to a leather and lace ensemble for a second look and finishes in head to toe dollar bills—well, dollar bill print.
Ever the fashion chameleon, the star dons a dramatic makeup look featuring pale skin, a deep red lip, pencil-thin eyebrows and a dark smoky eye. Meanwhile, her dark hair is coiffed into a 1920s-inspired bob.
In addition to Jenner, Sam Smith is also featured on the issue's cover and candidly discussed body image in an interview with Sarah Jessica Parker. "When I was shooting my first music videos, I just wasn't happy with the way I looked, so I was trying to control the way the camera moved," he told the Divorce star. "I got a bit obsessive. I was constantly looking in the mirror, pinching my waist, weighing myself every day. Now, I've gotten to a place where I really love my stretch marks and I just enjoy my body."
The new issue hits newsstands on Jan. 11.