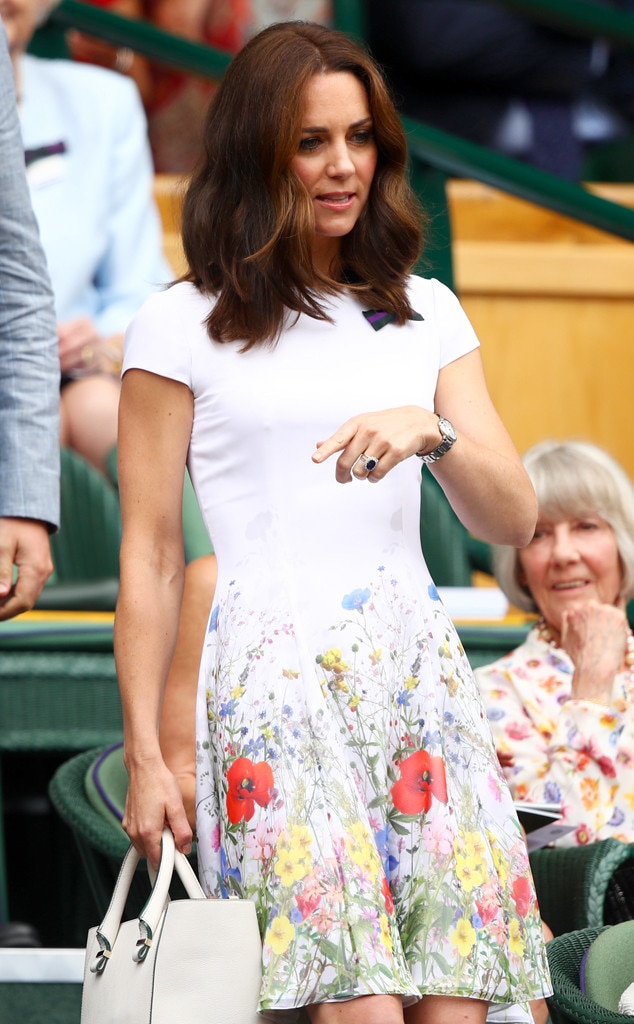 Clive Brunskill/Getty Images
Flower power!
Kate Middleton and Prince William attended the Wimbledon men's singles final to watch Roger Federer play Marin Cilic. The Duchess of Cambridge looked lovely in a white, short-sleeve, short Catherine Walker & Co dress with a colorful floral print, showing poppies, cornflowers and daisies.
Kate's sister Pippa Middleton also wore a floral dress and was seen sitting with their brother James Middleton and their parents, Carole Middleton and Michael Middleton.
In a BBC1 documentary about Wimbledon that aired earlier this month, the duchess talks about her fondness for the tournament.
"Every time Wimbledon is on I am thinking, 'Yes, I could do the same' and get out the racket," she says, according to comments posted in Elle U.K. "Sadly, never the same results."
She also reveals that mother Carole Middleton has a big crush on Roger.
"Roger is my mother's heartthrob. I don't think she will mind me saying that!" Kate says. "I think he probably knows that too."
She also talks about how she missed Andy Murray's 2013 Wimbledon because she was eight-months pregnant at the time with her and William's eldest child, Prince George.
"I was very heavily pregnant with George so I wasn't able to turn up," she recalls. "I wrote to [Andy] afterwards saying sorry for not being there but huge congratulations."