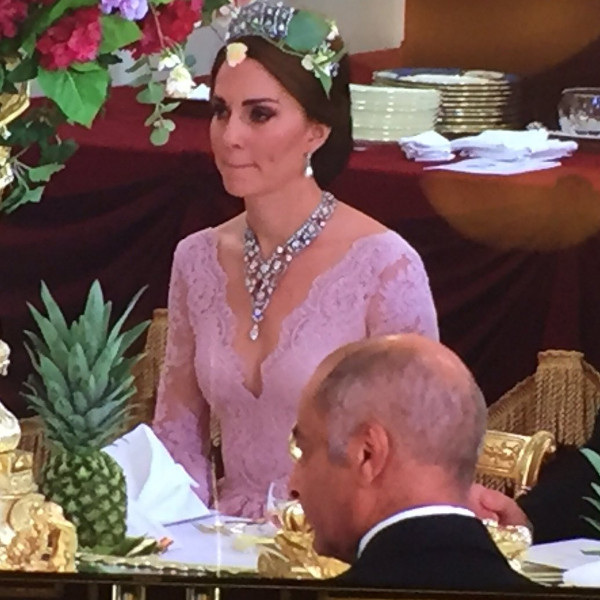 Kate Middleton continues to honor Princess Diana's legacy with a familiar—and daring—look.
Catherine, Duchess of Cambridge channeled her late mother-in-law Princess Diana, at a State Banquet Queen Elizabeth II hosted to honor Spain's King Felipe and Queen Letizia at Buckingham Palace Wednesday.
The duchess looked gorgeous and regal in a pale pink, lace Marchesa gown with ruffled, elbow-length sleeves and a plunging neckline, marking one of her most revealing public looks. She wore her hair up and adorned it with the Cambridge Lover's Knot Tiara, which she has wornbefore and which was one of Diana's favorites.
Kate completed the outfit with a King George VI and Queen Elizabeth Bandeau diamond and ruby necklace, which she borrowed from the queen, according to The Daily Mirror Royal Correspondent Victoria Murphy.
This marks the sixth time the duchess has worn a tiara, with the first being at her and Prince William's 2011 royal wedding. 
The queen, who wore an aquamarine tiara and a satin, white Angela Kelly dress with sparkling embellishments, and King Felipe led a royal procession into a banquet hall. They were followed by her husband Prince Philip and Queen Letizia, while Prince Charles, his wife Camilla, Duchess of Cornwall, Kate and husband Prince William and his brother Prince Harryescorted other guests. Harry walked and sat with Rose Hanbury, Marchioness of Cholmondeley, a family friend.
The queen sat at a head table adorned with light and dark pink roses and peonies and golden candelabras, along with her husband, the Spanish royal couple, and Charles and Camilla.
Guests dined on dishes such as poached fillet of salmon trout with fennel in a white wine veloute sauce, Scottish beef medallions with bone marrow and truffles, runner beans with sauteed radishes, celeriac salad, fondant potatoes, yellow and green zucchini and summer squash and dark chocolate and raspberry tarts, according toThe Daily Express.
"Your majesty, the Duke of Edinburgh and I are delighted to welcome you and Queen Letizia to Buckingham Palace this evening. This state visit is an expression of the deep respect and friendship that describes relations between Spain and the United Kingdom. Just occasionally, a state visit can provide great opportunity for great personal happiness also. So it was more than a century ago when your great-grandfather, King Alfonzo the 13th, met his future wife, Princess Victoria Eugenie, the granddaughter of our Queen Victoria, in this very ballroom."
She also talked fondly about the king's parents' 1986 visit to the U.K., during which his father King Juan Carlos became the first foreign monarch to address parliament, and about how their countries currently work together.
"We remain deeply committed to the common defense and freedom of our countries," she said.