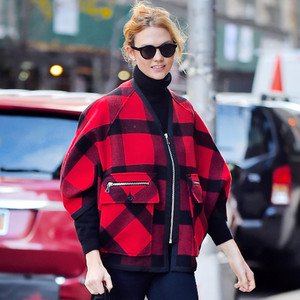 Plaid has long been, and will long stay, a holiday wardrobe staple.
But there's a fine line to walk when it comes to wearing the pattern—especially around this time of year—because it can start looking too festive. So take a cue out of Karlie Kloss' style book and follow along as she teaches you an invaluable lesson on dressing for the season, without going overboard (starring her plaid Opening Ceremony coat).
Without further ado, here are the tips on doing holiday plaid, the cool-girl way.
Tip #1: It's about implementing that red, holiday plaid into your current wardrobe without making too many waves. Example: We often see Karlie in black skinnies, boots and turtlenecks, so the overall outfit (minus the coat) isn't shockingly different from what we're/she's used to.
Tip #2: Don't choose a plaid pattern that feels too busy. The less lines and less design elements make for a more classic and timeless look.