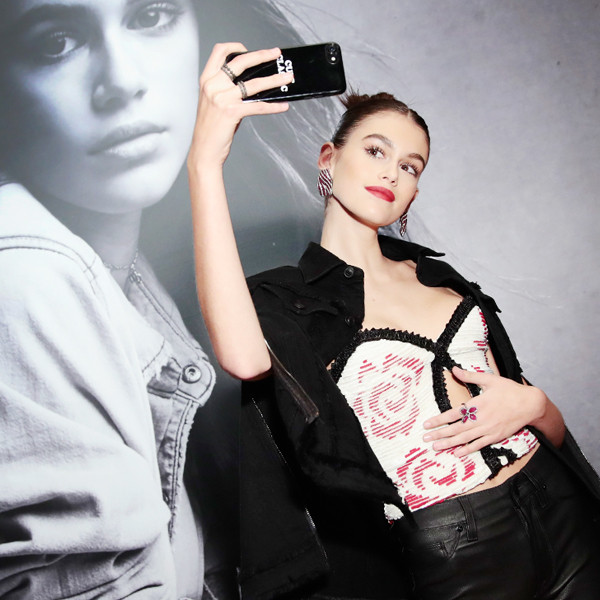 Cindy Crawford had her iconic denim moment with that 1992 Pepsi commercial. Now, Kaia Gerber is making her own.
Crawford's 16-year-old daughter fronts Hudson Jeans' spring/summer 2018 campaign—Kaia's first denim-centric modeling gig. At a preview of the collection, E! News caught up the It Girl to find out what words of wisdom veteran models like Kendall Jenner and even her mom have given her.
"I think [Kendall] does a really good job about having a life outside of [work] and staying with your friends and not separating yourself too much, so I've just kind of learned that from her," Kaia exclusively told E!.
Work-life balance isn't the only thing she's picked up on the job. Cindy has passed along advice that would work even if Kaia ended her career in the spotlight.
"She gives me advice for life more than modeling, like 'Be on time,' which is really important in the industry we're both in," the model said of her mom. "And to be kind to everyone. Everyone that I've worked with says she's the most professional person that they work with, so I could only hope that they say the something about me."
Unfortunately, when it comes to her mama's closet, Kaia is on her own.
"My mom and I aren't the same size. She's a bit taller. And we're not the same shoe size either, which is heartbreaking," she said. "I know that we have a lot of the same mannerisms and, obviously, look a little bit alike, but yeah, I'd say we have different senses of humor and stuff like that."
Luckily, when it comes to jeans, Gerber has a closet with "too many" options to count. Her favorite?
"Barbara High Rise. I wear it literally all the time, day, night, event—they just fit me really good," she said. "My friends will always come into my closet, and they usually steal my Barbara high-rise pants, and I'm like, 'No, those are the ones that I'm trying to wear.'"
You know what they say: When you find the perfect jeans, don't let them go.