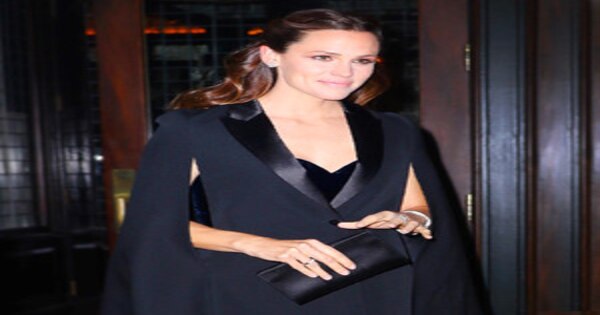 Jennifer Garner is looking all kinds of chic lately and we're guessing it has to do with her newest cold weather wardrobe strategy: the cape.
It doesn't matter how killer the date-night outfit you're wearing is, when temperatures drop, it's inevitable you're going to want to cover up. But that doesn't mean you have to sacrifice style! You already have an innumerable amount of parkas, leather jackets and raincoats (all fine options), but here's why you should invest in a tuxedo-inspired cape this season.
For starters, you'll be one step closer to looking as polished as Jennifer does. But the best part about a blazer-cape combo is that it really goes with anything—most notably your eveningwear. It's not a knit cape, which lacks structure and tends to have a cozy, off-duty vibe. It's more formal because of its tailored shape.
It looks just as good layered over cocktail gowns as it does over jeans and t-shirt combos. And you don't have to stick to black either. Have fun with patterns and colors because if you have to cover up, it might as well be with something fresh that gives your look that sophisticated, unfrumpy twist.
Lavish Alice Terracotta Collarless Cape Blazer, $ 65.97; BCBGMaxAzria Upas Pinstriped Cape, $ 268; Vanessa Bruno Cape Blazer, $ 587.05
Who said looking good had to be complicated?