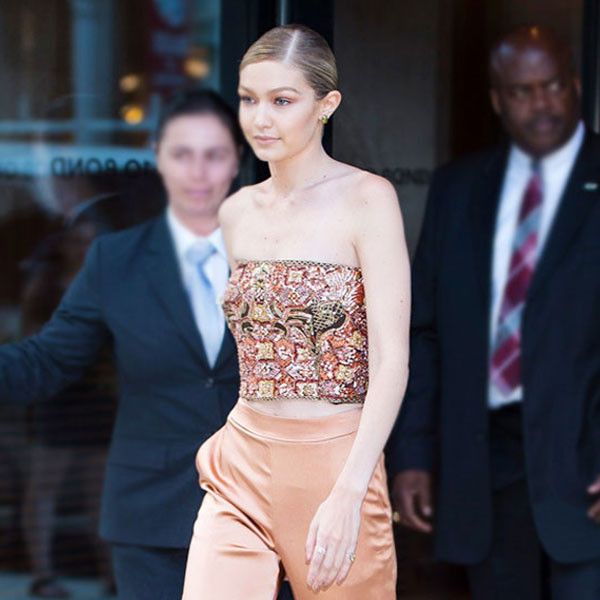 Britney Spears, 'N Sync, the Spice Girls and tube tops. That's how your childhood went, right?
If you were born in or grew up around the '90s, there's no doubt you have fond memories of wearing the tight-fitting strapless top (made of stretchy material) to school dances, play dates, birthday parties, you name it. Bet it's been a while since you've seen one.
That's what makes Gigi Hadid's gilded top so rare—and we'd be lying if we said we're mad about its potential comeback. Chokers had their moment, slip dresses haven't gone anywhere…even Kristin Cavallari's Laguna Beach-era Steve Madden sandals had their 2017 moment in the spotlight!
So, really, it's about time.
Of course, there's a time and a place (and an outfit) that best suits a shirt style like this, but it's probably a much simpler formula than you'd imagine. Not to mention, because of its minimal nature, it's insanely easy to dress up.
Headed to a dinner date or party? Just think: WWGD (What Would Gigi Do). Pair your tube top with silky trousers and heels, something semi-formal and romantic for the ultimate ensemble. If you need it to be even more formal, throw a blazer on top. Want a more casual look? Denim is always an option. Just choose a top in a more laid-back fabric like cotton. See? Easy.
If you're with us (and willing to give the look a try)…