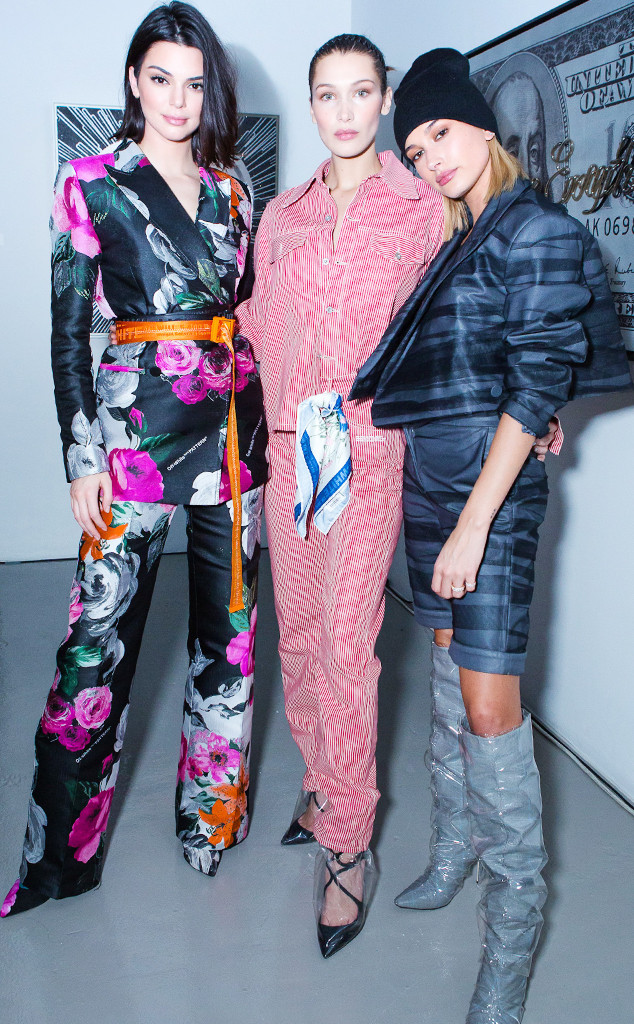 Samantha Deitch/BFA/REX/Shutterstock
Everybody wants to be friends with Off-White's Virgil Abloh.
Not just because the American designer is nominated for a CFDA Award for Womenswear Designer of the Year, not because he was just announced as Louis Vuitton's menswear artistic director, and not even because supermodels like Bella Hadid, Kendall Jenner and Naomi Campbell adore him.
Off-White, a luxury streetwear brand, has only found mainstream success in the last four or five years, but the Chicago-based creative's talent was recognized far earlier than that. Virgil first got his start, thanks to Kanye West, who interned with the budding designer at Fendi in 2009. He then went to serve as the artistic director of Kanye and Jay-Z's Watch the Throne tour. Fast forward to 2018, where everyone from Rihanna and Beyoncé to Susan Sarandon and Nicole Kidman don his garb.
To say he has grown important connections is an understatement—he has friends among fashion elite, music royalty and even the art world. To see how deep Virgil's star-studded network is, keep scrolling.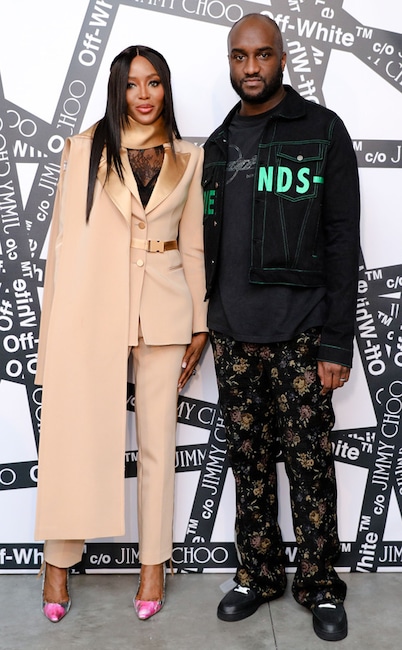 Vladimir Weinstein/BFA/REX/Shutterstock
Naomi Campbell, Fashion Elite
The designer and supermodel live in each other's support systems. If she attends a party celebrating the collaboration between Off-White and Jimmy Choo, he'll show up at her annual Fashion for Relief charity gala. "You are our future," Naomi once tweeted about the designer. Fun tidbit: Virgil gifted the model a custom pair of sneakers, which read "Air Naomi" from his highly anticipated Off-White x Nike collaboration.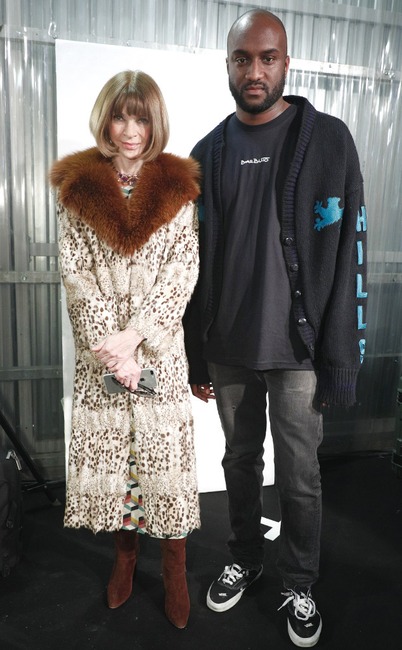 Matteo Prandoni/BFA/REX/Shutterstock
Anna Wintour, Fashion Elite
If the implications from The Devil Wears Prada are true, and the Vogue head-honcho does sign off on every collection to hit the runway, she must've given Virgil many stamps of approval.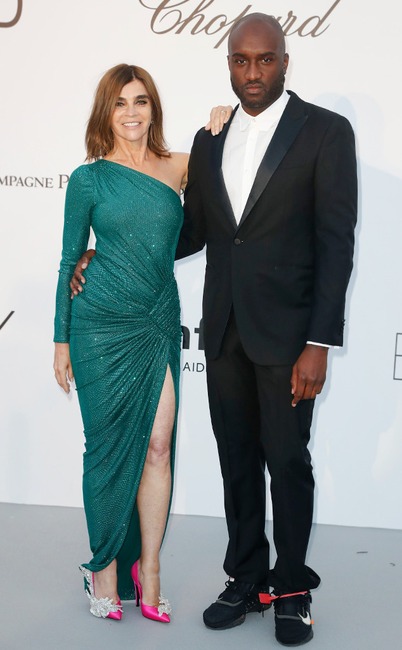 SEBASTIEN NOGIER/EPA-EFE/REX/Shutterstock
Carine Roitfeld, Fashion Elite
The designer and artistic director for Louis Vuitton menswear, in an LV suit no less, escorted the renown French fashion editor, in sparkling Balenciaga, down the 2018 AmfAR Cannes Gala red carpet.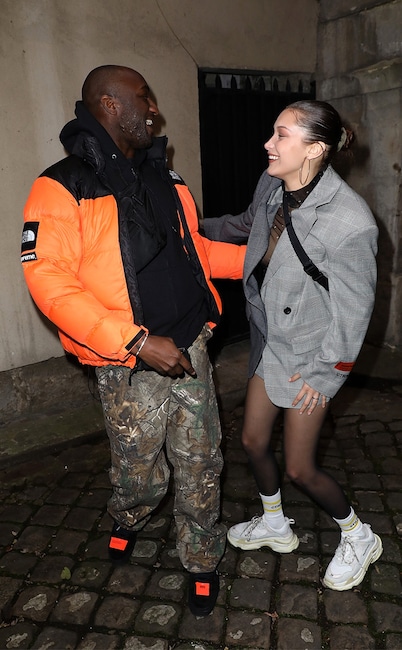 Pierre Suu/Getty Images
Bella Hadid, Model Squad
Designers tend to have many model friends since they live in the same industry—but Bella may also be Virgil's biggest fan. Besides walking on his runway, Bella is constantly on social media praising the designer. "Even tho it was past my bedtime on a work night- sometimes you just have to support your friends. Congrats genius !" she wrote on Instagram after attending a party celebrating his collaboration with Jimmy Choo. When Virgil was announced as the artistic director of Louis Vuitton, the model again took to social media, writing: "Virgil for Louis V! You deserve this in every way! I'm so proud of you! Here's a fun collage I made ! Congratulations buddy!!!! More wine! More history."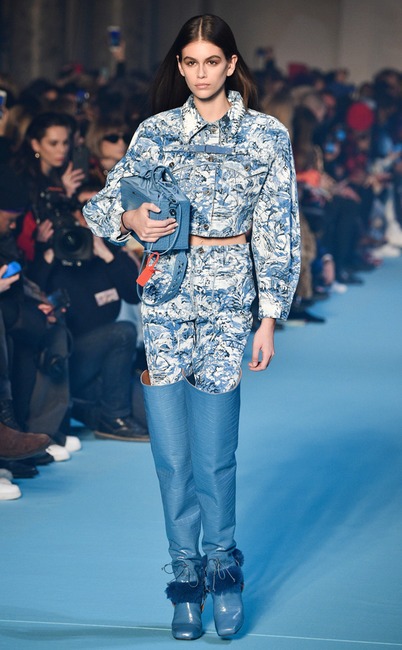 Peter White/Getty Images
Kaia Gerber, Model Squad
If you haven't seen Cindy Crawford's model daughter walk the Off-White runway, you've undoubtedly seen her wear the high-fashion streetwear brand, well, in the streets.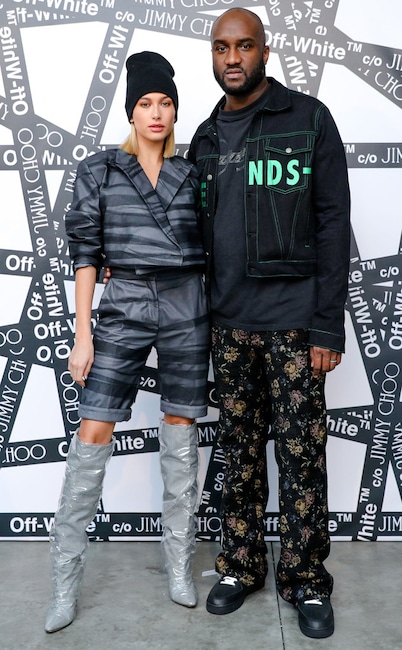 Vladimir Weinstein/BFA/REX/Shutterstock
Hailey Baldwin, Model Squad
Not only did the pair accompany each other to The Fashion Awards 2017, but they are continuously supporting each other career's. "He included me in shows when other people wouldn't necessarily have wanted me to do them. He included me in shoots. He's just amazing and I really feel like he has my back," Hailey told Teen Vogue.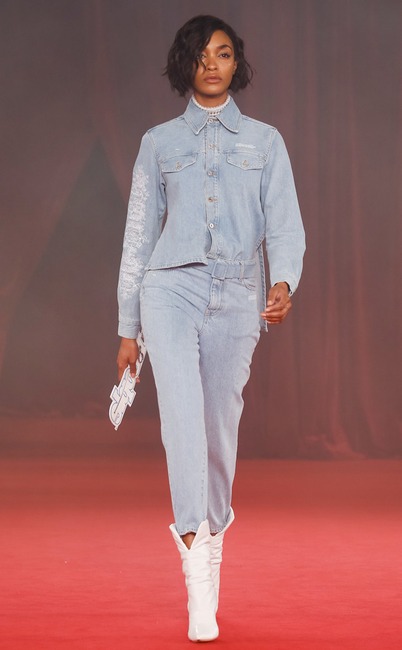 Richard Bord/Getty Images
Jourdan Dunn, Model Squad
Besides walking on his runway, the supermodel, along with Hailey Baldwin, were featured in a major editorial with Virgil for British Vogue.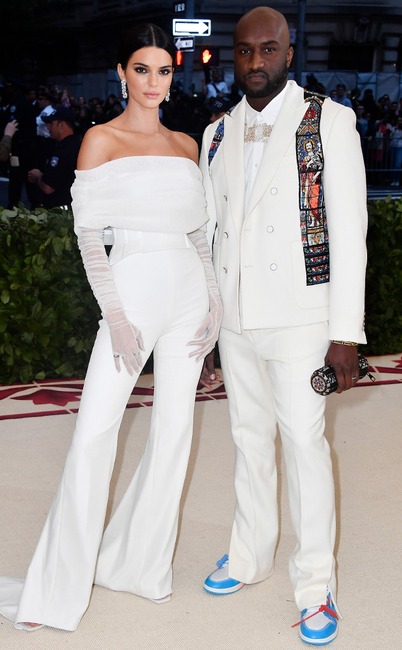 Frazer Harrison/FilmMagic
Kendall Jenner, Model Squad
While being paired up at the Met Gala doesn't necessarily mean friendship, an honest Facetime session does. "The pair have been friends for a couple of years, and Jenner refers to him fondly as 'Virg' over the phone," reports Vogue, later transcribing the duo's video call regarding the model's Met Gala fitting. 'Do you feel good in it?" he says immediately after hello. 'Dude,' Jenner replies, 'it's so sleek and so perfect with the vibe.'"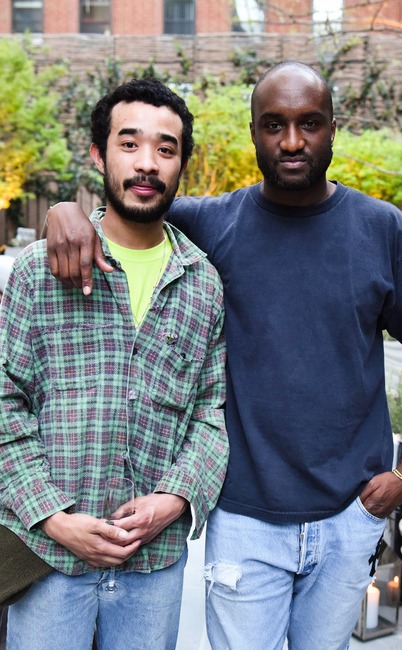 Griffin Lipson/BFA/REX/Shutterstock
Lucien Smith, Art Circle
Not just a frequenter at Art Basel, Virgil is heavily invested in the art scene as well. A series of the American artist's paintings are displayed in Off-White's NYC flagship store. "Lucien and I, we're part of the same social scene of a generation of New Yorkers that come to the city, and input creativity and cultural brevity," Abloh told WWD.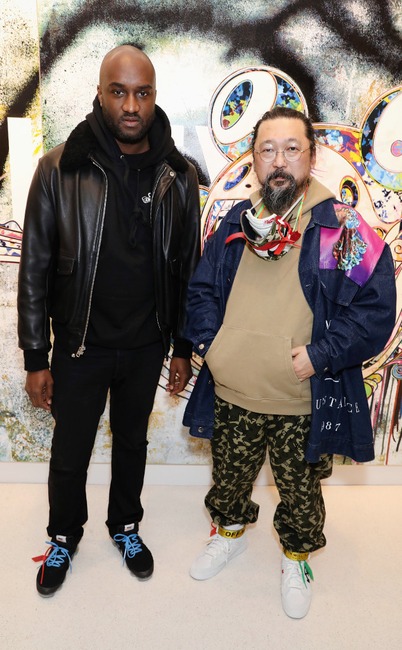 Darren Gerrish/Getty Images
Takashi Murakami, Art Circule
Not only has Virgil done public discussions with the likes of Jeff Koons, but he also collaborates in exhibitions. Here, he attends Murakami & Abloh: Future History with the renown Japanese contemporary artist at the Gagosian Gallery in London.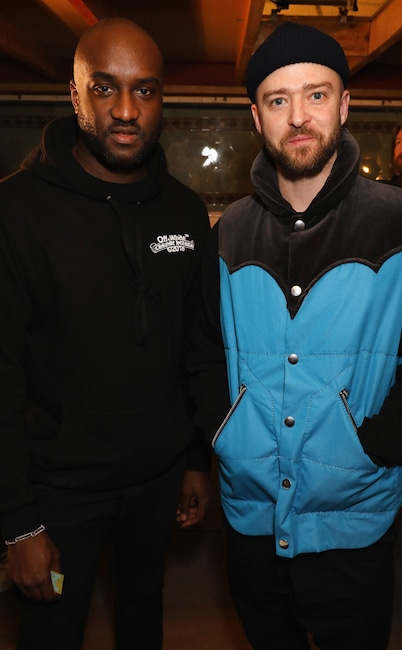 Darren Gerrish/Getty Images
Justin Timberlake, Music Set
JT was also at the art exhibit…just sayin'.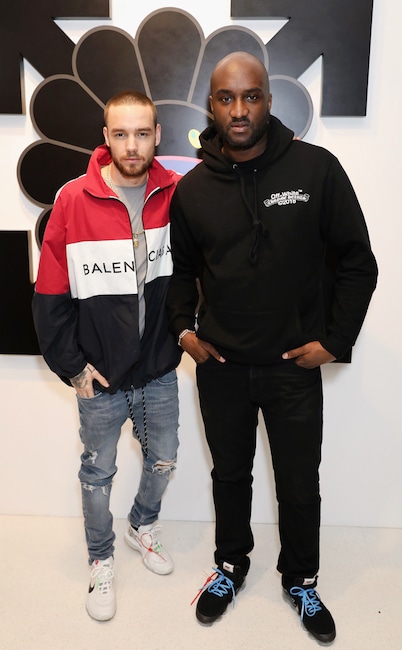 Darren Gerrish/Getty Images
Liam Payne, Music Set
And so was Liam.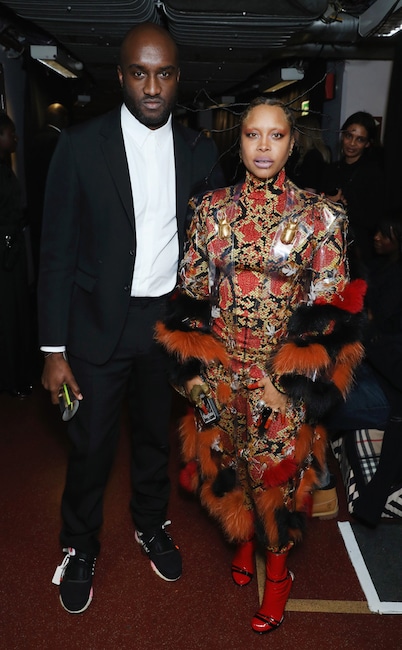 Darren Gerrish/BFC/Getty Images
Erykah Badu, Music Set
The designer posed with the singer-songwriter backstage at The Fashion Awards 2017.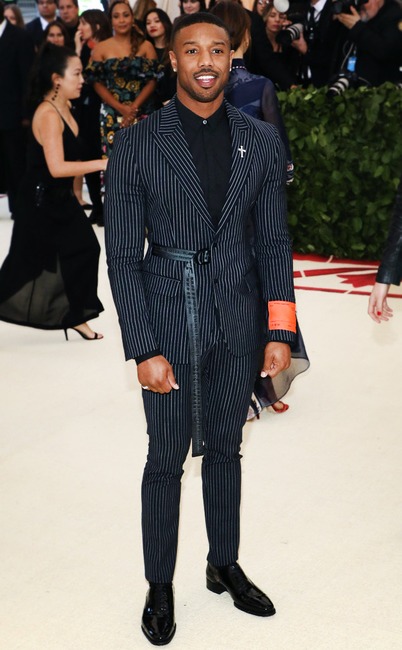 Taylor Hill/Getty Images
Michael B. Jordan, Hollywood Pals
Not only was the Black Panther actor outfitted in Off-White for the 2018 Met Gala, he has been spotted at a few of Virgil's collaboration parties as well.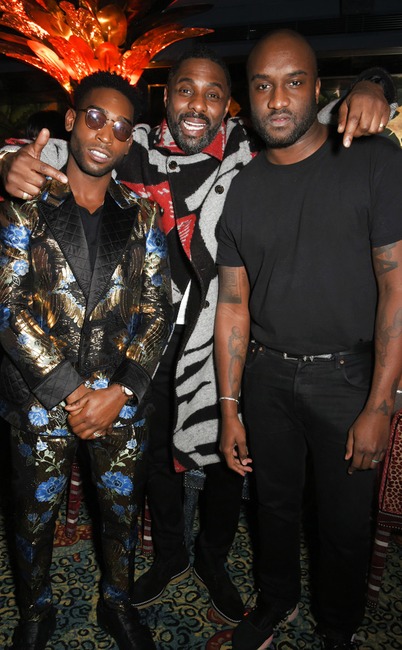 David M. Benett/Dave Benett/Getty Images
Idris Elba, Hollywood Pals
So we're not quite sure how close the Thor actor is to the designer (or Brit rapper Tinie Tempah for that matter), but, boy, does Idris look happy here!
Don't miss E! News every weekday at 7 and 11 p.m.