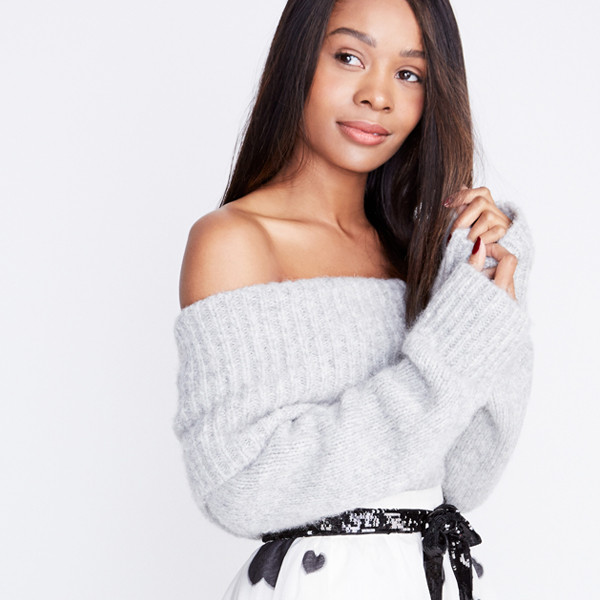 To be a fly on the wall at fashion week…or, in Zuri Hall's case, a model in a show.
The E! News correspondent got the exclusive opportunity to wear new pieces from J. Crew's fall 2017 presentation, alongside other non-models, in a "real people"-themed presentation. What does it feel like to work with the brand's president and creative director, Jenna Lyons, get fitted for clothes that haven't hit the market yet and get glam in a mere 10 minutes. Zuri shared her minute-by-minute musings. 
Friday Morning: The Fitting
I swing by J. Crew's showroom for a fitting. After a warm welcome from their team, Somsak (head of Women's Design) and I have a one-on-one, where he gets a feel for my personality. I try on three looks, but one especially stands out. I feel so me in this! It's cozy, cool, flirty and just feminine enough.
Enter: Jenna Lyons—J. Crew president, connoisseur of effortless cool and general badass. The head-honchtress is disarmingly down-to-earth and hands-on during my fitting. She directs her team, as they measure and pin my outfit to fit my body. Her passion for the brand shines, and her confidence in me is rubbing off…on me! I'm starting to feel like I can actually do this. After a whirlwind of air kisses, handshakes and hugs, I'm out the door and on to my next NYFW stop of the day.
Sunday: The Presentation
Today's my J. Crew debut! After Friday's fitting, I'm excited to see how my tailored look will come together. I'm not nervous yet, but right now it's also just me, stumbling around my hotel room with sleep still in my eyes. Let's check in on the feels three hours from now, at go time.
RAIN. Remembering why I fell in love with LA…two days after moving to said LA. NYC, you're a doll, but this weather isn't doing any favors for my hair. I hail a taxi. And brood. 
Just got to Spring Studios! I'm starting to get nervous tingles. This is really going to happen! Who signed off on this? How did I get here? Do they realize I'm for sure not a model? Will there be snacks?
There's a whirlwind of welcomes (check out this sweet, hand-signed card from Jenna), re-direction up to the 7th floor, then a quick change and suddenly I'm in a new J. Crew robe. Time for glam!
I'm in the makeup chair. It's controlled chaos backstage. I'm a bit frazzled (because I'm a bit late) but starting to relax. The glam team tells me the J. Crew look is super natural and relaxed. Wait—I'm not gonna get the full beat, complete with highlight to the gods, that I so know and love? Nope. The philosophy behind this show is "Real People," and I'm guessing that means contour, not included.
I'm coming around to this more au naturel Zuri! It's refreshing to look like an only slightly enhanced version of myself. To be honest, I feel a bit vulnerable, but hey, let's do this. I'm then whisked away to a quick photo shoot, for J. Crew's lookbook. Jenna is there to great me with a smile, and encouragement: "I know you've got this—do your thing!" I don't spend hours in the bathroom mirror dancing to Drake for nothing. Let the smizing commence. 
I'm escorted out to the presentation studio along with a few dozen other models—real people, a.k.a. friends and family of the brand. There's also a few actual models sprinkled in. (At least, I'm assuming they were.)
The doors open and the crowd floods in. Hundreds of people. I think I see Julianne Moore. Oh yep, I do—apparently her daughter (a beauty, by the way) is in the presentation, too. Hundreds of people. The place is packed! People walk by. Stare. Take photos of me. I smile, pose in my stationary position and chat casually with the models next to me. The vibe is chill—way less pressure than a runway!
My feet are starting to hurt a bit (I've been standing and smizing the whole time), but that's a wrap! All the models hop off their platforms and go hug it out with their friends and family in the massive studio space! I've officially made my NYFW debut, and I'm feeling great! Also starving. Next Stop: Carmine's, for a well-deserved bowl of lemony chicken pasta.
Hey, the theme is Real, right? I'm real hungry.
Follow us on Instagram and Snapchat at @StyleCollective for exclusive behind-the-scenes footage and live updates from New York Fashion Week!