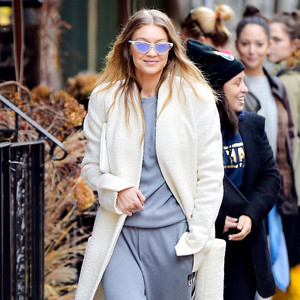 According to Gigi Hadid, long coats are in.
Not just long coats, though. The supermodel's are dramatic, floor-skimming statement toppers that flow behind you and catch the gravel as you swagger onward. If you haven't noticed, it's become somewhat of a signature look for the beauty lately.
Like with anything else Zayn Malik's better half puts on (practical or not), I decided to give it a hard try. Why? Well, first, the model is the year's best dressed celeb in the street style category, and secondly, why not? So, here's how it went when I dressed like Gigi for a day.
I'm based in LA, so my take on the long coat was breezier than her hefty NYC version. Unlike the model's Zaid Affas textured mohair coat, I found mine on Boohoo for a whopping $ 30. It was a fire-engine red, kimono-type cover-up with the same over-dramatic, trailing effect. To keep it simple, I paired it with a cotton black slip dress, Adidas sneaks and oversized, pitch-black sunnies—just like Gigi would do. No fuss, right? Wrong. You see the problem with an outfit with a train is that it drags and gets caught. If you're the clumsy type (like me), it's a straight-up safety hazard. Allow me to elaborate.
Leaving my house that morning, I felt like a million bucks: looked good, check. Felt good, check. It never hurts to standout, but that confidence quickly faded 10 minutes later when I arrived at my morning coffee shop and was greeted by, or what felt like, sideways glances from every direction. Maybe it was just paranoia. Maybe if I was Gigi, my internal voice would have said, "Hell ya, girl, you are on fire." Mine, on the other hand, sounded something more like, "Oh God, too much, Taylor. Too far."
The inconveniences only spiraled from there. Upon arrival at the office, I was greeted with another eye-roll from the parking attendant. Don't even ask me how I felt riding the jam-packed elevator up to the 30th floor of my office. By the time I made it to my desk, I was just shy of a panic attack. Thank you, no more judge-y eyes. Before I knew it, it was lunch time and I had to brave the crowds at the local lunch spot.
I sucked it up and made my way downstairs. I nearly killed myself when the end of my coat almost raveled into the elevator. I made a conscious effort to ball up the end and carry it as I walked. On the plus side, those paparazzi, wind-blowing moments are real. I felt pretty darn glamorous walking across the street. Still, I repeat: not practical.
Even back at my desk, the jacket kept getting caught on the wheels of my chair. It was distracting and uncomfortable. Needless to say, it wasn't my most productive workday.
I've got to hand it to myself, though: I looked good. While I appeared to be unabashedly confident and carefree through the lens of the camera, I felt the opposite. I was more self-conscious than ever in my purposely eye-catching ensemble. I'm not saying that I don't like attention—I do. But here's the trick to celeb style: Show off when you feel empowered by a trend; don't just do it because it's cool. Even if it looks badass, how you feel is more important. I'm proud of myself for stepping out of my comfort zone, but perhaps next time I'll stick to a trend that feels more me.
You live and you learn, right?