Good morning, New York!
Emily Ratajkowski dared to bare in her newest campaign for DKNY's Spring/Summer 2017 intimates, hosiery and sleepwear campaign. The 25-year-old model stuns in both black and white pieces of lingerie while lounging in bed, but it's the fashion campaign's accompanying video that really makes jaws drop (and cars crash!).
Ratajkowski wakes up in her black lace bra and briefs, grabs her dog's leash and exits her apartment to walk him…wearing nothing but her lingerie. As she makes her way out of the building, Ratajkowski catches the eye of neighbors, who either ogle at her beauty or nod in disapproval. As she makes her way through the Manhattan streets, Ratajkowski causes a couple of car accidents, including a taxi cab!
"Good morning, New York," she says with a tease-like tone.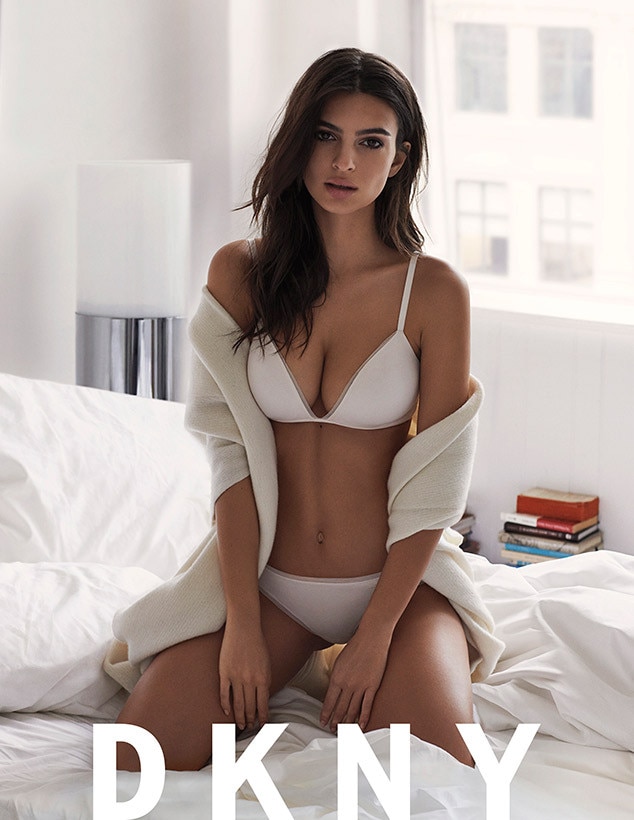 Courtesy of DKNY
When paparazzi images of Ratajkowski filming her project first surfaced in January, controversy ensued. She took to Twitter to clarify why she was walking around Manhattan in nothing but her undies in 40-degree weather.
"Guys I was modeling for an upcoming campaign when I was walking a dog in [bikini emoji]!" she explained. "And no, of course I don't actually think thats hard work."
Ratajkowski rose to fame after appearing in Robin Thicke's provocative "Blurred Lines" music video and has been making headlines ever since for her risqué selfies. But there is far more too her than meets the eye.
"Commenters said I had 'an excess of beauty and lack of brain' and told me to 'shut up and show us your tits,'" Ratakowski pointed out in a personal essay Glamour. "But I was also criticized in a very specific way— for seeking attention. They wrote me off as 'a desperate attention whore,' saying I was taking part in the conversation only because everybody else was too."
She added, "Our society tells women we can't be, say, sexy and confident and opinionated about politics. This would allow us too much power. Instead our society asks us to declare and defend our motivations, which makes us second-guess them, all while men do what they please without question."