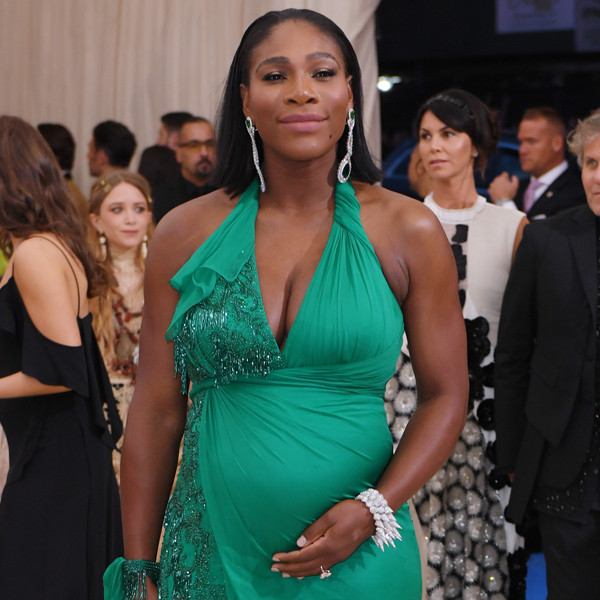 Serena Williams is known for her killer instinct on the court, but she's about to be known for something entirely different—being a mom.
On April 19, the champ announced via social media, albeit accidentally, that she was 20 weeks pregnant. Being an expectant celeb comes with some serious perks, but it also comes with major eyes on your maternity style, watching for that growing baby bump—and the seven-time Wimbledon winner is no different.
Being a sporty gal, Serena has always been prone to choosing comfortable fabrics that move and breathe, often pairing them with some flashy elements—and her pregnancy gear is just that.
The queen of the Grand Slam is all about mixing fashion with function, but still showing off her amazing curves. She loves glitter and glam, but she's also going to rock her Nike kicks in a flash. From bad-ass bikinis to her emerald green 2017 Met Gala gown and sporty off-duty ensembles, Serena has been serving up her maternity style with aplomb since Day 1 of her pregnancy.
It's been a whirlwind few months for the superstar. In December, Serena got engaged to Reddit co-founder Alexis Ohanian. 
At the time she shared the news by posting a sweet poem beside a cartoon sketch of Ohanian getting down on one knee. "I came home/ A little late/ Someone had a bag packed for me/ And a carriage awaited," she wrote. "Destination: Rome/ To escort me to my very own 'charming'/ Back to where our stars first collided."
She continued, "And now it was full circle/ At the same table we first met by chance/ This time he made it not by chance/ But by choice/ Down on one knee/ He said 4 words/ And I said yes."
What's your favorite pregnancy look of Serena's? Sound off in the comments!