Brooke Shields is back in her Calvins.
In 1980, at age 15, Shields became famous after she appeared in a sexy and suggestive print ad and commercial campaign for Calvin Klein Jeans. In the ads, she says, "You want to know what comes between me and my Calvins? Nothing." They caused controversy and even spurred a couple of TV outlets to ban the commercials for allegedly being too provocative and for insinuating the actress wasn't wearing underwear, The New York Times reported.
Well, she is now. In a sexy cover photo shoot for Social Life Magazine's July 4 issue, out this weekend in the Hamptons, Shields, now 52, wears showcases her trim figure in Calvin Klein lingerie—a sexy white CK Perfect Fit bra and modest matching underwear.
Earlier this month, Calvin Klein CEO Steve Shiffman said at Time Inc's Cannes Lions Shakers & Stirrers event that "we are going to be working with Brooke again very soon," according toPage Six. No further details about a collaboration between the brand and the actress were given.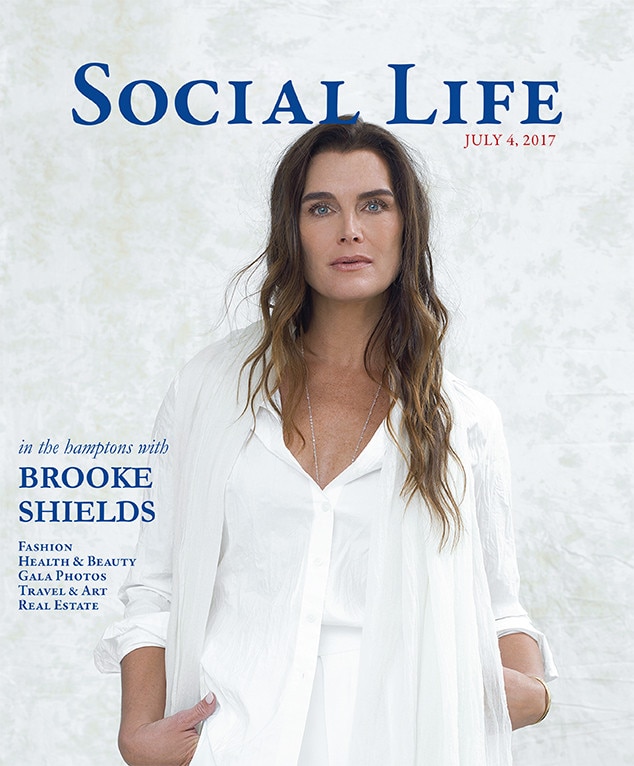 Gian Andrea di Stefano / Social Life Magazine
So what's the brunette beauty's secret to staying in amazing shape?
Brooke tells E! News she enjoys "mixing up my workouts" with core strength training, SoulCycle and tennis. When it comes to her nutrition plan, Shields explains, "I try to avoid fried food and too many carbs, and [I] never skip breakfast."
Even before the success of her Calvin Klein Jeans ad campaign in the '80s, Shields raised eyebrows for her choice of roles; the actress played a child prostitute in the 1978 film Pretty Baby. She went on to become a movie star, starring in movies such as The Blue Lagoon, which was also considered controversial for its time.
In the '90s, she revamped her image as a sitcom star, appearing with Kathy Griffin and Judd Nelson in Suddenly Susan. In recent years, she's played Rita on The Middle and hosts her own satellite radio show, Brooke Shields NOW, on SiriusXM.
In February, Shields attended the Calvin Klein runway show at New York Fashion Week. There, the company's creative director Raf Simons debuted his first collection, which paid tribute to Shields' '80s ad campaign.
"So Raf wanted to sort of bring back the old silhouette of what made these commercials infamous," the actress said on her SiriusXM show at the time. "So he took that ad, that picture and made it almost Warhol-esque…and he put them on the back of all the jeans. And what's so funny is that nobody knew about it. I knew about it and they all thought I was just being really supportive of Raf and when the girls and boys walked by, it was, you could see people, they were getting it."
"I think what's beautiful and brilliant about what Raf did is he wasn't apologizing for it, he wasn't making fun of it, you don't even feel like he's capitalizing on it," she continued. "He's bringing it back not even as a retro but just sort of as a real kind of nodding to it and saying, 'This is what we loved about it and we're bringing it into the next generation.'"