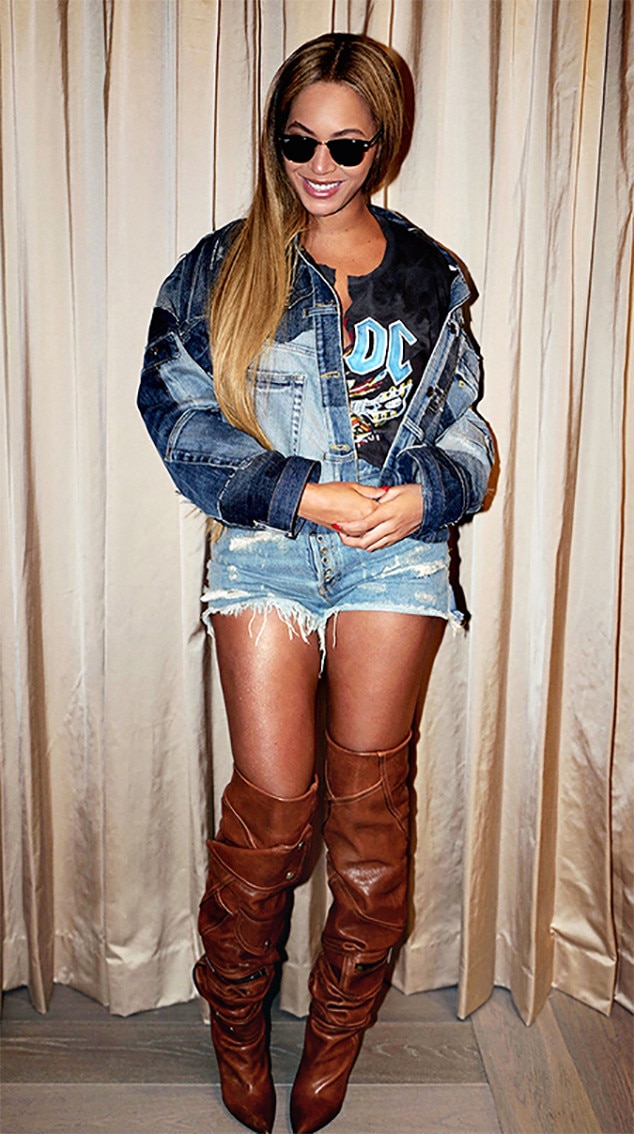 Courtesy of Beyoncé
Only Beyoncé travels in such style.
The 36-year-old "Perfect" singer shared a slew of photos with fans Monday, showcasing two very different—and very expensive—looks. In some of the shots, Beyoncé—who works with stylist Zerina Akers—posed with Jay-Z on their private plane, while in others, she posted solo. Whereas many celebrities are papped in airports in sweats, Beyoncé went the opposite route.
Here, E! News breaks down the cost of her two ensembles:
Look No. 1:$ 9,635
• Gucci AC/DC Print Tie-Dye Cotton T-Shirt ($ 720)
• Gucci Shredded Bleached Denim Shorts ($ 850)
• Dolce & Gabbana Distressed Patchwork Denim Jacket ($ 3,375; on sale for $ 2,025)
• Saint Laurent "Niki" Leather Zip Over-the-Knee Boot ($ 3,495)
• Dior Denim/Pink Canvas Shoulder Bag ($ 1,195; on sale for $ 660)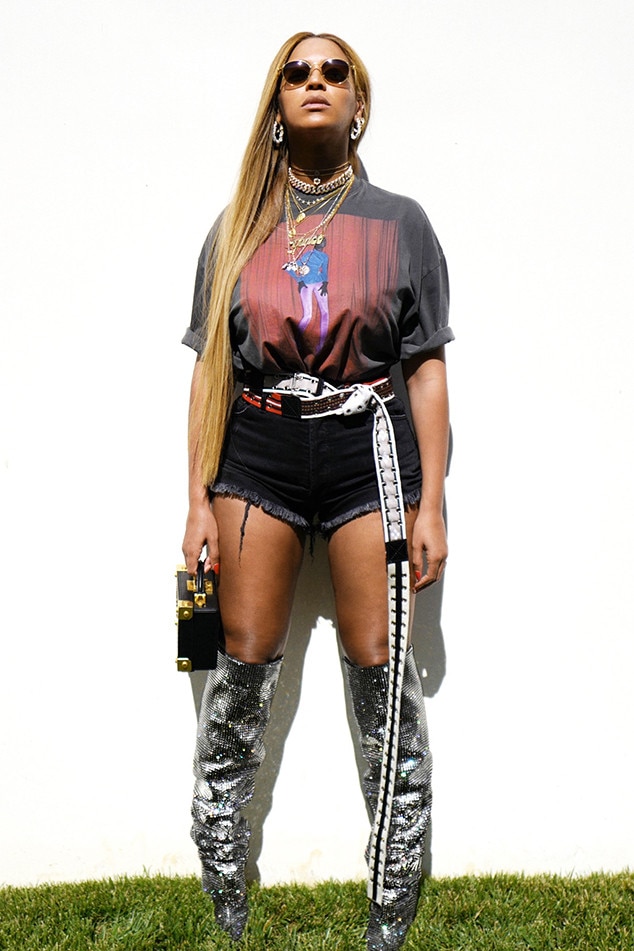 Courtesy of Beyoncé
Look No. 2: $ 13,163
• Balenciaga "Alek" Shirt ($ 495)
• MCM Berlin Trunk Cross Body Bag ($ 1,495)
• Ray-Ban Icons 53mm Retro Sunglasses ($ 153)
• Y/PROJECT Tulle Wrapped Hoodie ($ 1,020)
• Saint Laurent "Niki" Over-The-Knee Crystal Boots ($ 10,000)
Céline Dion and Kendall Jenner are also fans of Saint Laurent's Swarovski-studded boots. That brings the cost of Beyoncé's looks to at least $ 22,798—excluding accessories, jewelry and more.
Beyoncé does more than model other fashion designers' looks, of course. Last year, she launched her own athleisure line, Ivy Park, in Topshop stores around the world. "I've been shopping at Topshop for probably 10 years now. It's one of the only places where I can actually shop by myself. It makes me feel like a teenager," she told ELLE in 2016. "Whenever I was in London, it was like a ritual for me—I'd put my hat down low and have a good time getting lost in clothes. I think having a child and growing older made me get more into health and fitness. I realized that there wasn't really an athletic brand for women like myself or my dancers or friends—nothing aspirational for girls like my daughter. I thought of Ivy Park as an idyllic place for women like us." Beyoncé wanted a 50-50 partnership, so she presented Arcadia's CEO "with the idea, the mission statement, the purpose, the marketing strategy—all in the first meeting."
Needless to say, "I think he was pretty blown away."
Beyoncé had done other fashion lines in the past, but she felt more "prepared" when she pitched Ivy Park. "We had countless meetings; we searched for and auditioned designers for months. I knew the engineering of the fabric and the fit had to be the first priority. We really took our time, developed custom technical fabrics, and tried to focus on pushing athleticwear further. And because I've spent my life training and rehearsing, I was very particular about what I wanted," the "XO" singer told the magazine. "I'm sweating, I'm doing flips—so we designed a high-waist legging that's flattering when you're really moving around and pushing yourself."