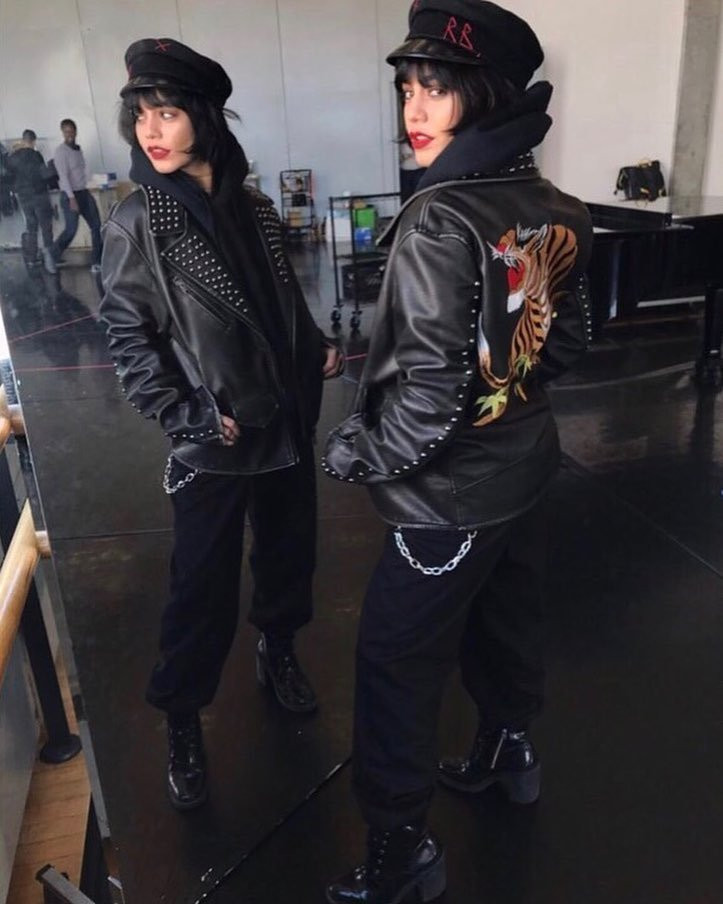 Let's be honest, high school never ends and everyone wants to be the popular kid.
In the proverbial high school that is real life, some people have a look oozes style, a.k.a. swag. We call them It Girls, pop stars and influencers for their expressed fearlessness through fashion. They set trends just by walking down the street. They pose for Instagram on one knee, hand on their chin with look of confidence what makes you want to wear whatever they're wearing—oversized sweats, extremely destroyed denim and cargo pants all of sudden start to look more appealing.
Behind these ultra-cool looks are designers bringing their unorthodox aesthetic to pop culture. They're unapologetically themselves, building a brand off the notion that people want to quite literally buy their style.
Want to know the under-the-radar designers making an impact on Hollywood? Keep scrolling!
Sprayground
The self-titled "creative outcast," David Ben-David started this backpack and accessories company in 2010 to represent urban culture with design. Graphics of money stacks, sharks, camouflage and graffiti make these bags easily identifiable, but you'll most likely see them on athletes, rappers and pop stars that identify with his Bronx-born outlook on fashion.
Celeb Fans: Gabrielle Union, Beyoncé, Chris Brown, Cara Delevigne, Kevin Durant, Young Thug
My Sister
This brand makes altruism and feminism cool with T-shirts that say something. With tops that read, "Pussies at the Polls Take Down Trolls" and "Year of the Woman," this brand is providing #MeToo followers with statement-making fashion, as well as providing funds against sex trafficking.
Celeb Fans: America Ferrera, Blake Lively, Amanda Seyfried, Olivia Wilde, Nina Dobrev
Lukka Lux
Since appearing on the first season of Project Runway, former track and field star, Nora Caliguri, started an athletic line that prioritizes fit and feel. Separating her brand from other athleisure lines, her collections seamlessly incorporates casual styles with athletic wear, so customers can wear the clothing anywhere.
Celeb Fans: Maria Menounos, Christina Milian
I.Am.Gia
You can thank Alana Pallister—the quintessential It Girl—for this Australian streetwear brand. Inspired by supermodel Gia Carangi, the creative director designed a line that captured the essence of a rebellious woman that challenges norms through gender-bending fashion—hence, the now-famous cargo pants.
"I wanted her to make every type of woman to feel like a badass when they put [the clothes] on," she told InStyle. "When someone asks me to explain Gia, I'm like, 'Three words: She's a badass.' A very powerful, strong, independent badass."
Celeb Fans: Vanessa Hudgens, Kaia Gerber, Bella Hadid
Sub_Urban Riot
The free-spirited brand began in 2006 with intentions on being anything but the norm. Created by Nate Koach and Jason Reed, the Venice-based brand captures vibes of an urban rebel with their catchy graphic tees, comfy bottoms and statement apparel. The brand has been seen on everyone from models, entertainers or even your everyday Californians.
Celeb Fans: Beyoncé, Josephine Skriver
Palace
The British skateboard brand is the result of founder Lev Tanju's "gap decade" after college: "Then one day I decided that I was a bum and I had to do something. I started designing some board graphics for people I live with. Then half way through designing them I thought to myself that maybe I should just start a skate company. It's called Palace because that's the name given to the houses we live in as they have all generally been shitholes," he told Business of Fashion.
Celeb Fans: Kylie Jenner, Justin Beiber, ASAP Rocky
Natasha Zinko
The Ukrainian lawyer-turned-designer, Natasha Zinko, has something for everyone: floral-printed dresses, camouflage parachute pants, oversized athleisure and most notably, extremely destroyed denim.
Celeb Fans: Jourdan Dunn, Beyoncé
Namilia
In October 2015, Berlin-based designers Nan Li (a former Yeezy designer) and Emilia Pfohl named their first collection, "My Pussy, My Choice"—a clear statement that represented their sportswear-like, anti-fashion aesthetic. Cardi B and SZA are just a few of the celebs that rock their wears.
Celeb Fans: SZA, Cardi B
Anrealage
Japanese designer Kunihiko Morinaga realizes the term "fashion forward" with his use of technology. With themed collections that reviewers call "cerebral," the brainchild of the brand still prioritizes everyday looks. His designs are beyond casual wardrobes. The result: hyper-cool designs that make you stop, stare and think.
Celeb Fans: Jhené Aiko