Warner Bros.
Finding a prom dress that will stand the test of time isn't easy.
Prom is a momentous event that will produce photos that you will smile (or laugh at) for the rest of your life. Your gown has to be flattering, but more importantly, it should say something about your personal style and serve as a unique expression of who you are.
Thankfully, Hollywood stylists on the sets of shows like Pretty Little Liars or movies like A Cinderella Story have already done most of the work, pairing larger-than-life fictional personalities to show-stopping gowns. So, if you're not sure which direction to go in, your favorite character or prom scene can offer the inspiration you need to shop with ease.
Scroll through TV and film's most legendary prom dresses below!
CW
Gossip Girl
A bold print ensures that you're the belle of the ball.
FOX
Glee
This dress shines bright like a diamond!
CW
Riverdale
Who says you need wait until your wedding day to wear white?
CW
Vampire Diaries
Take note: Bold colors make an impact.
CW
The OC
These takes on floral print are classic yet unique.
Warner Bros.
Harry Potter
Prom is the perfect excuse to dress like royalty.
ABC
Pretty Little Liars
These characters demonstrate the importance of expressing your personal style.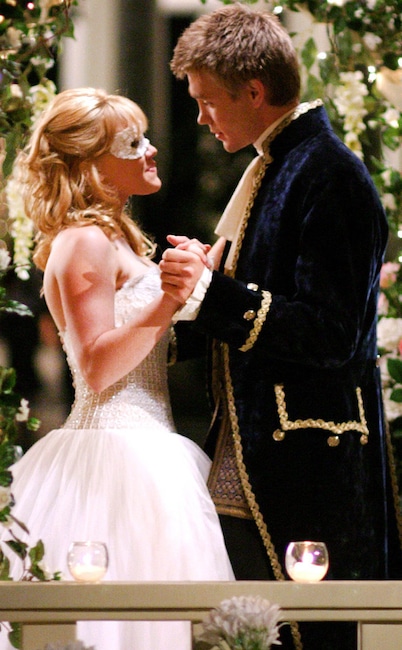 Warner Bros.
A Cinderella Story
Channeling a Disney princess is never a bad idea.
Disney Enterprises, Inc.
High School Musical 3
This embellished dress is perfect for prom and summer.
20th Century Fox
Never Been Kissed
This prom dress demonstrates how to play up the theme of the party.
Spelling/Kobal/REX/Shutterstock
90210
Prom is the perfect place to be pretty in pink.
DreamWorks
She's the Man
According to the on-screen love interest, this mint green hue is working for this prom goer.
Christine Loss/Regency/Kobal/REX/Shutterstock
First Daughter
When in doubt, go for a classic silhouette and hue.
Lionsgate
Twilight
The teal tiered dress is a simple yet feminine gown.